Food At North Star Camp For Boys
The food at North Star Camp is delicious! We serve a kid-friendly menu with clean, simple foods made from scratch and enough food that we don't run out. The campers eat family style with their cabinmates and counselors. In addition to the main options on the table, campers have additional options on the breakfast bar in the mornings and the salad bar at lunch and dinner. Fruit is available in the afternoon for a midday snack.
We are well-versed in food allergies and dietary restrictions and accommodate those needs whenever we can. If your child has any special dietary needs, please give us a call to discuss his needs with a director. At every meal, we offer vegetarian and gluten-free options for those who need them.
Four times a week, there will be outdoor picnics and barbecues. One night a week (on Cruiser Days), the boys cook their own food with their cabin at their cabin's cookout site!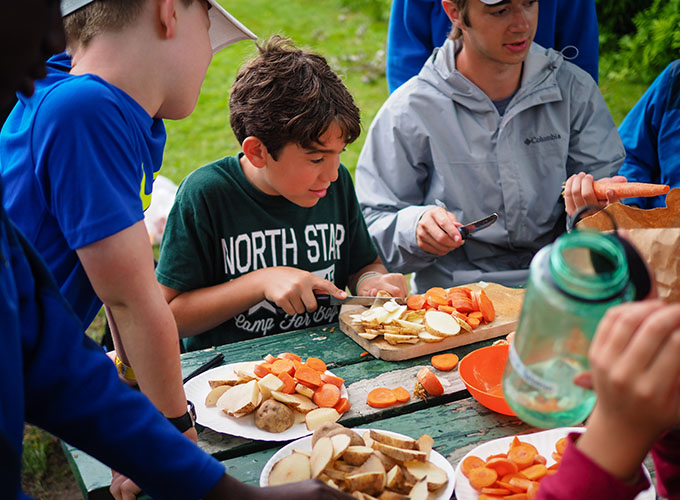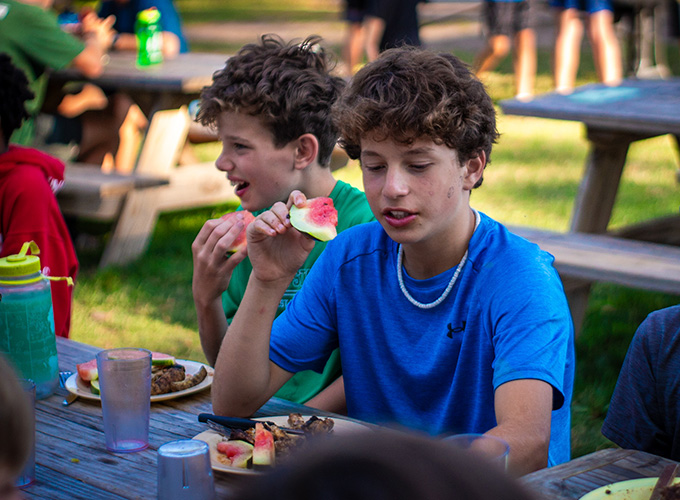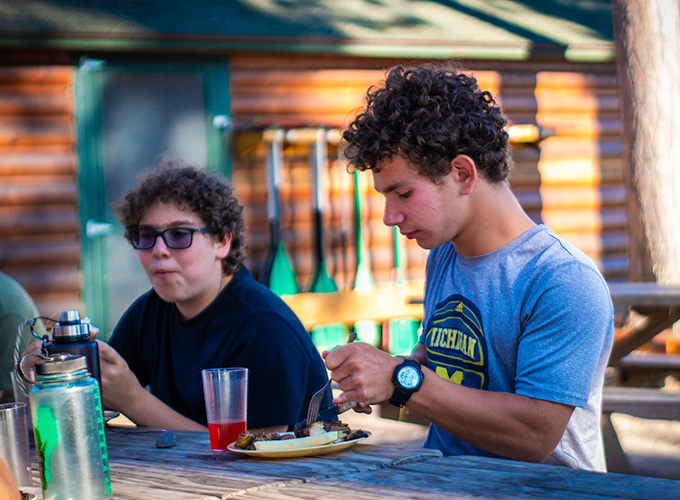 Common Meals At North Star Camp
Breakfast
Pancakes
Bagels
Waffles
Egg McMuffins
Cinnamon Rolls
Scrambled Eggs
French Toast
A typical breakfast will also include side dishes like hash browns, bacon, and sausage, as well as juice and milk. There is also a breakfast bar with hot and cold cereal, fresh fruit, and homemade granola.
Lunch
Grilled Cheese
Tacos
Cold Cut Sandwiches
Quesadillas
Sloppy Joes
Chicken Sandwiches
Mac & Cheese
Pizza
At every lunch, there is an extensive salad bar with fresh ingredients and a variety of salad dressings. There is also a Sun Butter (peanut butter alternative) and jelly station at lunch and dinner for campers looking for an alternative to the main course.
Dinner
Spaghetti and Meatballs
Roast Beef
Hamburgers
Hot Dogs and Brats
BBQ Chicken
Ribs
Stir Fry Chicken
Turkey and Mashed Potatoes
Dinner always includes tasty side dishes and well-prepared vegetables. Our baker makes fantastic desserts too and the always popular "Martha's Cinnamon Bread".