A Typical Day At north star Camp for boys
Every day at North Star Camp is broken down into five periods and an Evening Program. The first three periods are instructional project periods that campers have elected to attend for the week. These hour-long periods are used to learn skills, gain experience and allow campers to build confidence in areas that they want to thrive in. At the beginning of each week, every camper puts together his own schedule for his instructional activity periods. Campers are given a new schedule of six activities, broken into two 3-day blocks, based on their requests. Visit the Activities page for information on the many program choices and how our campers select their schedules.
Fourth period varies each day and will either be a small or large group game, all-camp activity or fun and innovative one-hour activity. This is often a time when we have our regular Green-White Competitions and cabin Challenge Games.
Fifth period is structured free period that we call "Organized Free." Most of our activities are open and there are additional "pickup" athletic games for campers to participate in. It's a warm day out and you want to go on the Power Tower at swim point with friends? Great! Head down to the waterfront. Want to take another climb up the climbing wall? Sweet!
We end the day with a fun Evening Program which is typically an all-camp event like Capture The Flag, North Star Ball or other fun games. We also have All-Camp and Village Campfires and other great, unique activities.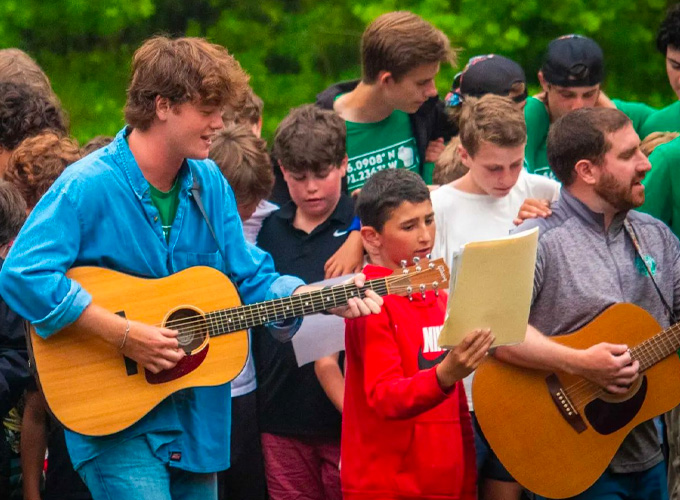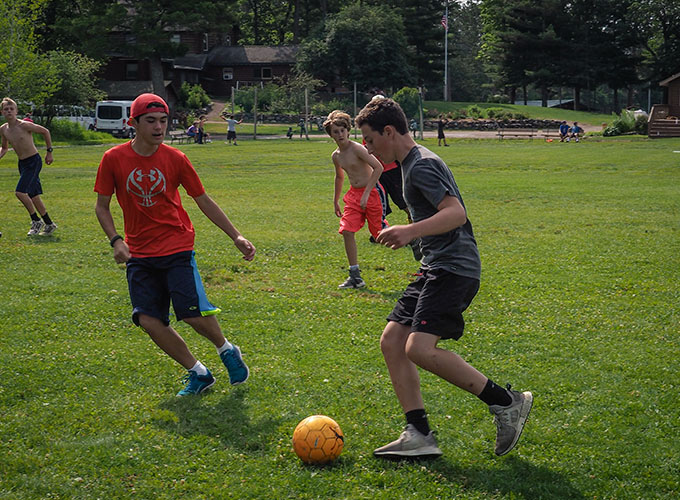 Cruiser Day
The aforementioned daily schedule fills six of our days at camp. The seventh day is a day called "Cruiser Day." Cruiser Day is when the cabin spends the entire day together, having planned ahead of time their schedule of events. With access to all the camp activities and equipment, campers and counselors of every cabin put to use their creativity as they come up with their Cruiser Day schedule. These days are filled with endless possibilities including but not limited to scavenger hunts, tubing, waterskiing, trips to the local resorts, team building activities, cabin challenges, slip-and-slides, pie-eating contests and sports tournaments.
Each Cruiser Day culminates with a cookout meal. Campers use their learned wilderness skills to prepare a meal over an open fire, feasting on camp favorites like tin foil surprise and walking tacos. These evenings help to create teamwork within the cabin and strengthen bonds between the campers as they work together to prepare their cookout, collect wood, build a fire, cook the meal and handle the cleanup.
Once per session, each cabin will take an out-of-camp trip with their village for Cruiser Day. This may include a trip to the local water park, beach or mini-golf course.