2nd Session is Underway
The second session of North Star's 78th summer is officially underway! We arrived to find an incredibly enthusiastic group of 8-week campers and staff greeting jumping up and down, forming a tunnel and then they began hugging their old friends and introducing themselves to new ones. There was great energy throughout the bus ride and it was even better when we got to camp. We gathered around the flagpole to announce the cabins, and a lot of cheering, high fiving and hugging ensued.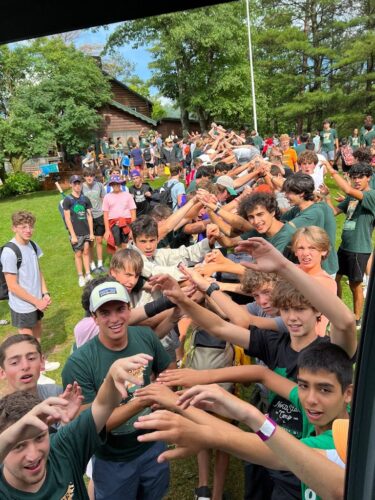 From there, the boys headed to their cabins to get unpacked, and that is where the relationship building begins. It is our expectation that by the time everyone goes to bed, they feel that they have one counselor that they are comfortable waking up with a problem or a question and one friend that they are excited to play with in the morning. The counselors will be checking in with each boy, and helping them feel settled. Once the boys know that they have people that they can play with and people that they can count on, they can feel the physical and emotional safety that allows them to feel at home.
The boys are now unpacking and new campers are receiving a tour of camp. There is a lot of excitement as they head out to see our redone tennis and basketball courts, the addition of pickleball and our brand new fitness center! By the time they go to sleep tonight, they'll have played games with their cabins and met some of the other guys their age as well.
Dinner this evening will be burgers, fries and jello, plus the ever present salad bar and Sun Butter and jelly. There will be vegetarian burgers available for those that prefer, and Gluten free options for those that need it. And of course brownies for dessert. Immediately following dinner, the campers will choose their first week's activities.
At our Friday Night Service this weekend, one of our counselors Cole Hanover delivered an incredible sermonette about how the North Star Community has been a part of his own growth. He spoke beautifully about how camp allowed him to feel secure being himself, and how being himself allowed him to build deep friendships, develop self-awareness, and work to become the best version of himself. Cole noted how he had grown through the activities and the camping trips, the special events, the conflicts he had with his cabinmates and the feedback he received from his counselors. We strive to build that type of community for every camper that pulls through the arches so that each camper can have a safe and successful summer. After evening activities, each cabin will have their own candlelight ceremony, where each cabin will have a meeting led by their counselors. They will share their goals and expectations for the summer, while continuing to get to know one another. This will be the first of many cabin discussions that are an important part of developing the strong sense of community that we strive for at camp.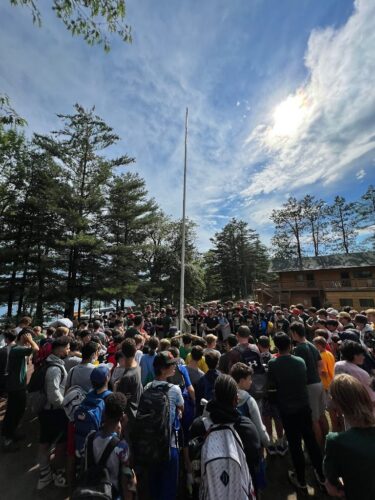 Tomorrow the kids will have a busy day as our medical team checks in the boys. They will take a swim test on a nice hot day and find time to play several games of dodgeball. Evening program will be our first game of All-Camp Capture the Flag. And Tuesday will be a modified Cruiser Day, so that the boys can spend one more day in their cabin pod before we hopefully clear our next round of our testing protocols. If everything goes according to plan, the boys will have their first three elective instructional activities, which they chose tonight, starting on Wednesday. From there we will also begin sending out our camping trips to get the boys back out having adventures in nature.
The first four weeks of the summer have absolutely flown by, and we're so excited to have our second session boys in the rhythm of camp! We're excited to have everyone at camp for an amazing 4-weeks!
From here on out, you can follow along with the summer of 2021 on our website at www.NorthStarCamp.com/blog. We will also be posting updates on Facebook at www.facebook.com/northstarcampforboys, on Twitter at www.twitter.com/northstarcamp, and on Instagram @northstarcamp. We post pictures online on a regular basis, and you can access those directly from your CampInTouch page. To access your CampInTouch page, go to www.northstarcamp.com and click "login" in the upper right hand corner. From there you can click on "Photos" to see those smiling faces. If you'd like to set up guest accounts for friends or family you can do that from your landing page by clicking on "Guest Accounts."
Thank you for trusting us with your boys!
Thanks,
-Andy