A Hot and Fast Start!
We knew second session would get off to a scorching start, but who knew that it would bring a 95-degree day! There is really no better day for swim tests, especially with the lake feeling like a bathtub. A strong breeze gave us the relief we needed throughout the day. Everybody was doused in sunscreen and well-hydrated and excited to be in the water to swim. One of the things that I love to see during swim tests is the way that the counselors all jump right in with their kids. No hesitation. They get right in the water and encourage their campers to do their best. And they swim alongside them the whole time.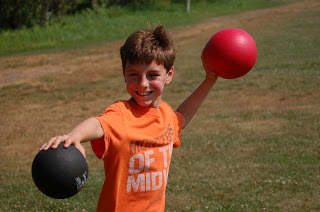 This afternoon, the Junior and Intermediate Villages each played in their own game of continuous dodgeball. It is a great activity for the first full day, as it is not only a fun activity for all, but a great name game as well. The Senior Village took their guys down to swim point for some Water Polo. The 8-week campers, who had already gone through physicals and swim tests, went on several different day trips. They had the option of going tubing down the Namekagon River, going for a full day of waterskiing and wakeboarding on Round Lake, and going disc golfing at Fiddler's Creek in town.
The next display of the staff's enthusiasm happened during our
Opening Banquet. The guys decided to dress up and celebrate the arrival
of our campers with some good old fashion goofiness. As all of the
campers entered the Lodge this evening for dinner, they were again
greeted by a crowd of crazy and excited counselors. We have such a great
group of campers here this summer, and we are so proud to welcome these
guys (back) into the North Star family.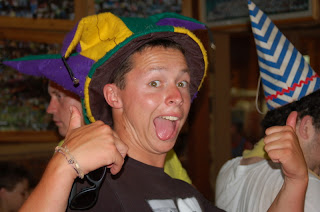 For evening program, we played our first game of All-Camp Capture the
Flag of the session! We start by dividing the whole camp into two teams, and then
create flag circles on completely opposite ends of camp. We rang a bell
and they were off. The whole camp was in high-gear in pursuit of the
other teams flag. It was a great showdown, with 11-year-old Jonah L.
bringing the flag across the line for the game winning point.