First Day Of School!
Today our campers did something at camp that we have never done in our 76 year history: they went to school. After getting settled this weekend, our boys were up bright and early to begin their first day of school at camp. We've arranged camp so that every camper has a "classroom cabin" located next to their regular cabin. Each classroom cabin is equipped with tables and chairs to create a desk space for each camper (and picnic tables right outside to use for when it's nice out). Of course, we're also encouraging the boys to get outside to attend their classes around camp if that environment will not be distracting for them. Most of the campers opted to do school for their first day in the cabins, but I did see a few virtually learning from some of the hammocks around camp!
Each school day, we will have to "Recess" periods, which are modeled after our summer Organized Free periods. Today, we had riflery, arts and crafts, waterskiing, and a few other activities open for the campers if they didn't have class and needed a break from doing schoolwork. I mean, has there ever been a cooler recess period than going waterskiing in between math and science class?!
At 2:30 PM today, we rang the bell to officially open the Fall Camp Cafe for the first time ever. The Fall Camp Cafe will give the campers a chance to take a break towards the end of their school day and grab a snack. It will be open every Monday through Friday at 2:30 PM (and closed on weekends — aka camp days!). There was quite a selection of snacks to choose from today: bags of pretzels, popcorn, cookies, string cheese, and some homemade Rice Krispies treats. And since it was a perfect fall day today, we also had some hot chocolate for those with an even bigger sweet tooth. Everyone at the Fall Camp Cafe could relax at the picnic tables with their friends, fill out a First Day Chalkboard to get their picture taken, or listen to the tunes being played on guitar by one of our awesome counselors, David.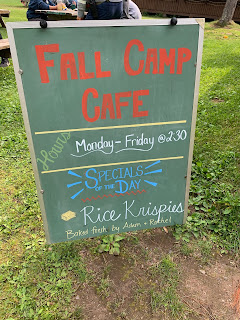 After the Fall Camp Cafe closed and homework was completed, we went right into a jam-packed afternoon of camp activities! Once school is over, our goal as much as possible is to get the boys out around camp, moving around and having fun. First up was "After School Activities" which gave the campers the options to go sailing, swimming, or biking today. Next up was "Club" time where we had Arts & Crafts, Disc Golf, Chess, and Fishing open. Lastly, before dinner, we had "Evening Program" where the younger boys went on a Nature Hike along the nature trail and the older boys played a game of speedball on the athletic field. We finished up the day with a delicious make-your-own taco bar.
Tomorrow is supposed to be beautiful weather outside (a high of 80 degrees!) so we expect to see a lot of the kids doing their remote schooling outside and taking advantage of the waterfront during their recesses and post-school activities. The first day of school was a great success today; we're looking forward to what tomorrow brings!