Fourth of July, North Star Style
Happy Fourth of July! For most of you, by the time you read this, it will probably the fifth or sixth of July, and we hope that you had a great Independence Day, enjoyed the day with family and friends, and saw some great fireworks. At camp, the Fourth of July is a pretty big deal from start to finish and we make sure that our campers have a memorable day!
In traditional North Star fashion, we started out with a very red, white and blue breakfast. The lodge was decked out in patriotic decorations and we have our traditional breakfast of waffles garnished with whipped cream and strawberries (we may need to add some blueberries next year!). Once breakfast is over, we go straight into our Green-White Marathon.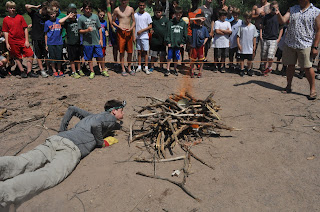 Shortly after our campers arrive at camp, they are put on either the green or white team for their session at North Star. They play different games over the course of the summer, representing their team. For the marathon, however, we have one massive camp wide race comprised of 40 or so events. Each camper is in at least one event, racing against the other team. Events range from running relays and canoe races to tent building and bed making. While the marathon is going on, two campers for each team are collecting wood and birch for the ending event, the boil water boil. All told, the marathon goes for about 90 minutes and at the final event, the two campers for each team have one goal, get a #10 tin can full of water to boil over by building the best fire they can. The two pairs started their fires within a few seconds of each other (in the marathon, you cannot start your event until the event before yours has been completed). Everything was neck and neck, and both teams build tremendous fires. Green, however, edged out the White team, with their water boiling about fifteen seconds ahead. It was one of the closest marathons in recent memory.
The marathon would be enough for one day, but we didn't have time to rest with our friends from Camp Birch Trail coming over in the afternoon. Everyone had time to take a shower and put on their finest attire for the social. The ladies from BT arrived in time for some great opening skits. Once that was done, we had some different ice breakers for each village with their female counterparts. Just before dinner we opened lots of different program areas and then our kitchen did great work feeding not just our campers and staff, but the over 300 visitors from Birch Trail.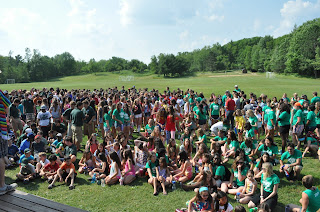 After dinner we headed up to our tennis courts for music and entertainment. We are lucky enough to have several very talented counselors who play different instruments and they put together a band that played several songs before we headed into Mike Hall for more music and dancing. One of the great parts of the Fourth of July is that we get to meet several of our camper's sisters. While some brothers play it cool, they all really love seeing their older or younger sisters after a few week hiatus.
The day ended with several cabin groups sitting outside, watching the different fireworks going off around the lake. This Fourth of July also has some additional significance. As usual, we have a great crew of staff from other countries that choose to spend their summers working at camp. Additionally, we're proud to have staff members who spent time serving in the military. We love having lots of fun on the day, but we also relish the opportunity to help our campers understand the significance of Independence Day.