Happy Valentine's Day – The February Siren is Online
We love our North Star Family! We can't tell you guys enough how much we appreciate you being part of the North Star family, and Valentine's Day is just another great occasion to tell you how much we love you.
As of today, February 14th, camp is only 125 days away and we can feel the excitement building. If you check out the February Siren, you will see why. In it you can see many of the campers and staff that will be at camp for the Summer of 2012, and read about the traveling around the country that we have been doing to make sure that we have the world's greatest campers and staff.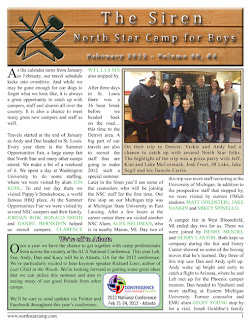 If you love what you see at North Star, and haven't yet signed up for this summer, you can Register Online. And as always, we hope that you'll Spread the Word about North Star to those that you love!
Happy Valentine's Day!