Overcast Skies and Happy Guys
Happy Monday! Every day, the boys are getting better and better about masking up at the appropriate times and sanitizing in and out of activities without reminders. Today was laundry day, so the counselors made sure the buffs and masks went in with the rest of the laundry load to come back clean on Wednesday. There are still no suspected cases of Covid-19 at camp, and we plan to get our test results back tomorrow.
Overall, we were lucky with the weather today, with cooler temperatures and just a short burst of rain before lunchtime. We still ate outside for every meal, and just asked that the boys bring their raincoats or Crazy Creeks to sit on so they didn't have to sit on the wet benches. Campers still got to do all of their favorite activities throughout the day, and even with overcast skies, the water was still very warm for swimming, fun bugging, and logrolling.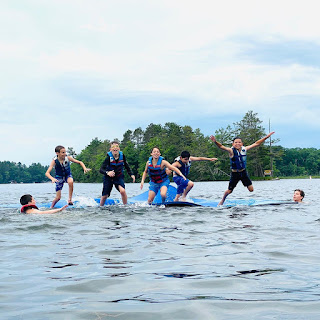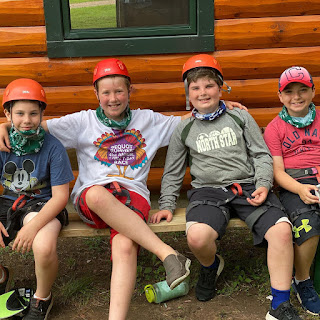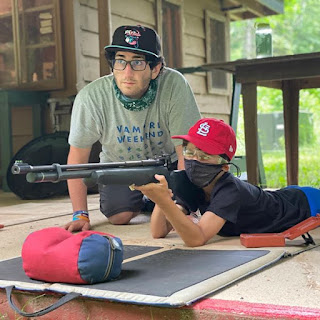 We've had quite a lot of birthdays since campers arrived last week. Whenever there is a birthday, we make sure to celebrate at dinner with our own rendition of the birthday song (which is a bit of a strange tradition that you should definitely ask your son about) and a cake for the birthday boy to share with his cabin. The birthday boy gets to stand up on a chair and give a speech before indulging with his cabinmates. We had fun celebrating yet another birthday this evening, and whenever there is a birthday, the camper and his cabin also get an extra special surprise that evening…a pizza party! Counselors put the boys to bed, and once the campers are asleep, the counselors run in with pizzas and sodas in hand to share. But shh, don't tell…it's a secret!
Tonight's evening program was Music Monday in the style of an open mic night. Immediately following dinner, campers had the chance to get up on the J3 porch to perform a song, skit, poem, or any other form of talent they wanted to show off to the rest of camp. Campers in the audience went crazy for Wanegan and bug juice as they watched the show. The acts included campers playing guitar, piano and singing, mocking TikTok videos, some other short skits, and a brand new rap about wearing masks by counselor Jared Marcus under his stage name Saucy J! We plan to make this a weekly event since we have so many musically-inclined boys this session.
The boys had another great day of playing their favorite games and bonding with their cabinmates and counselors. The campers received their Cruiser Day schedules this evening and are super excited for what tomorrow will bring!
Today's Grace:
"There is nothing either good or bad, but thinking makes it so."