United Nations Day 2012 Recap
The sun and the stars are all ringing, with song rising strong from the earth;
The hope of humanity singing, a hymn to a new world in birth.
United Nations on the march with flags unfurled,
Together fight for victory – a free new world.
Together fight for victory, A free new world.
This is the opening verse of the
March of the United Nations
, a
song that has been a part of the North Star songbook for decades as part
of our celebration of United Nations Day. The day is made even more
special with many folks that travel to Wisconsin from around
the globe. This year we're glad to have campers and staff from Australia, New
Zealand, England, Wales, Ireland, Scotland, Italy, Mexico and Slovakia.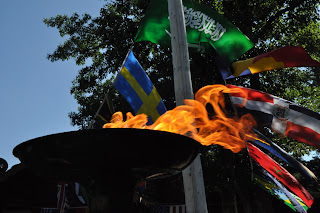 Last Sunday marked the start of United Nations Day week at camp, with the selection and announcement of our UN Day captains. Four campers were chosen from each of our three villages, nominated and then elected by the village counselors. This is a difficult task as there are many worthy captains and we ask our staff to select captains who display great sportsmanship, care for their fellow campers and the ability to take on the responsibilities to lead their teams. Each of our captain trios select an adviser to help them. After teams were chosen on Monday, we took a few days off for Cruiser Day and then the 4th of July.

Thursday began the action. Each day leading up to UN Day, we practiced one series of events and teams were responsible for coming up with a cheer for lunch announcements. We saw a lot of unique cheers and attempts to parody popular (and not so popular songs).

Saturday began 30 minutes early and after our opening ceremonies, the nations of Canada, France, Kazakhstan and Oman opened up competition. The day has four different series, two in the morning and two in the afternoon. We saw some great games in the morning, from great defense on Lou's Diamond (softball) to great marksmanship in riflery. Our mid day scores saw very close competition, with the top three teams within five points of each other.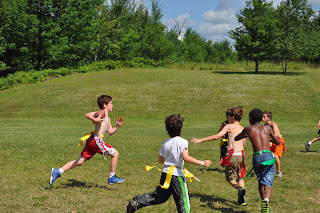 After lunch our staff hit the fields for games of speedball (a combination of soccer, football and basketball). These games count for no overall points, but they mean a lot in terms of both pride and something else. We have a big dinner, and our eating order is based on the results of the games. Before our third series began, the entire camp gathers on the athletic fields. We hold running relays and then camper and staff tug-o-wars.
Our afternoon featured more great competition. The standings shifted around throughout the day and as the entire camp gathered at swim point for our final series, there was again only a nine point gap between 1st and 3rd places. 4th series is a great way to end the day, with the final event being our innertube relay. We have our staff advisers lead off the relay for their respective teams!
Dinner on UN Day is a big deal. Our kitchen puts a ton of effort into the meal and one of the North Star traditions is that we serve deviled eggs. Following dinner, we gathered for our evening program, which is just reading the scores. You may ask yourself how a simple reading of scores can take an entire evening program. We've perfected the art of the stall here at North Star, and what may usually take about 20 seconds, we're able to stretch into a good hour and 15 minute extravaganza.
At the end of the day Oman came away in first, ahead of France by one point. As we say at camp, however, "it just doesn't matter". Lots of fun was had by all as another UN Day is in the books.