Addressing the Anxieties
For evening program, we decided to take a minute to address the many anxieties related to coming to camp during a global pandemic. While there are no suspected cases of Covid-19 and all of the tests completed have been negative, we know that our boys are curious and nervous about what the world looks outside of our camp bubble. We sat down as a camp outside of Mike Hall and took the campers' questions. They asked what might happen to them if they became ill with coronavirus. They asked about what camp would look like if somebody tested positive and what camp would look like if everybody remained negative. They asked about special days, camp traditions and some of the new things that they've loved from the first ten days at camp. They asked how close we are to a vaccine. They asked what school might look like in the Fall. And one camper asked me if I thought things would ever return to normal. We sat as a camp for about an hour and talked through these hard questions, and I did my best to answer honestly and factually.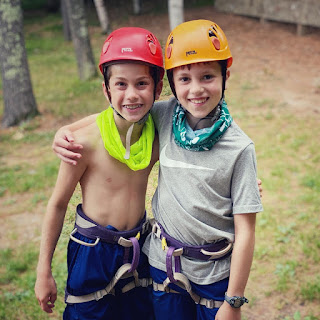 These boys have spent the better part of four months hearing about sickness and death. They've been separated from their friends, their extended families, their schools and their extracurricular clubs. Members of our community from our J-1 campers to our Senior Counselors asked questions that have been weighing on their minds, and together we shared in gratitude for our health, for friends and family, and for the opportunity to be in our camp bubble during this moment in time. While this won't set aside all of the anxieties related to Covid-19, I was proud to see the boys so willing to express their fears and feelings and to see the North Star community supporting each other in this moment.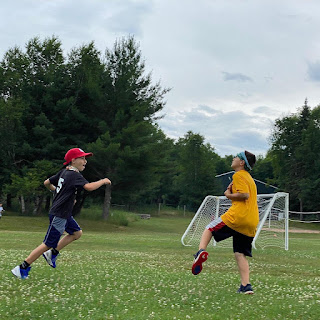 The rest of the day was filled with fun and games as we returned to a normal schedule. The campers ate eggs and biscuits for breakfast under cloudy skies, but we were lucky to only have a few drizzles of rain during first period, and we were dry the rest of the day. The boys had more opportunities to try new activities and learn new skills – some cabins went to the climbing wall, some went to archery, some played nine square, some went tubing, and some even played tennis baseball. Only a couple sailboats capsized during organized free, so we consider that a pretty good period out on the lake.
We passed out mail and some packages for campers over lunch which gave the campers time to look through their mail during rest period. They do love hearing from their friends and family. Just as a reminder, the boys are only allowed to receive reading material – letters, books, magazines, comics, or the newspaper. Please do not send food as we have already had some critters in search of that contraband. Trust us, we are keeping your boys well-fed!
After an extended heat wave to start off the summer, an overnight rain tonight looks like we might finally see some evening temperatures in the 50s to cool us down. But it never rains at North Star!
Today's Grace:
"Friendship is not something you learn in school. But if you haven't learned the meaning of friendship, you really haven't learned anything."
-Muhammad Ali
Be seated.