Camper Counselor Day and other special programs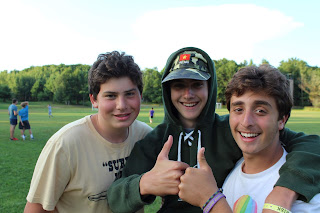 The last four days have been busy with special events, most notably an earlier than usual Camper Counselor Day. We have also welcomed prospective campers and their families into camp for Rookie Weekend, celebrated the Big 10, and had our last Cruiser Day of the summer. Today is Bi-Camp, and a contingent of campers from Camp Nebagamon have joined us to compete in a variety of camp activities.
Camper Counselor Day gives our Senior Village campers an opportunity to experience what it is like to be a staff member. The campers select a staff member to be for the day and swap clothes with them. The villa campers are "counselors" for the day, teaching activities and supervising cabins. The staff enjoy the opportunity to sample some of the activities they have wanted to try all summer. The Senior Village campers finish Camper Counselor Day with a sense of gratitude for the work their counselors do to make the summer special for them.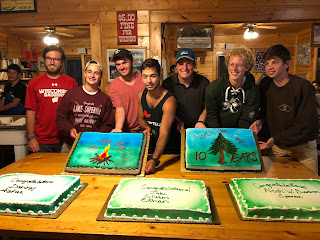 On Saturday and Sunday, we hosted 11 families for our second session Rookie Weekend. In addition to a tour for the boys and parents, prospective campers are able to participate in a bit of camp to see what like at North Star is like. They play in challenge games, swim during an organized free, and even have a chance to sign up for two activities of their choice. They also played in our Dodgeball Extravaganza evening program, trying to stay in for as long as possible while playing against the staff. Rookie Weekend is a great opportunity for a prospective North Star family to see camp running at full speed. If you know anyone who may be interested in attending Rookie Weekend in 2019, fill out the Refer a Friend form.
Sunday night we celebrated the Big 10. This year, we had seven honorees who have spent 10 years with us. This year's Big 10 men are Noah Broutman, Ethan Rane, Spencer Malkin, Asher Borstein, Noah Sherman, Danny Levy, and Jake Kraemer. Visitors and staff told stories to share some of the memorable moments these guys have had at camp before we all enjoyed some cake to mark the occasion.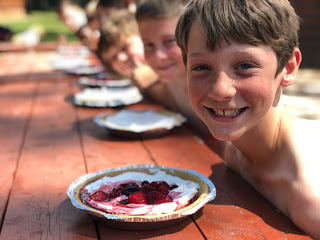 Yesterday was our last Cruiser Day of the summer. Cabins enjoyed many of the staple Cruiser Day activities, such as tubing and trips to the resort across the lake. Cabins also had the opportunity to make Oreo cookies and J4 made their own pies for a pie eating contest. J2 and J3 had a challenge day, spending the day together and participating in unique sports such as water polo. The Intermediate Village visited Wild Mountain, a waterpark in Taylors Falls, Minnesota, for a day of waterslides, go-karts and alpine slides.
Today is our annual Bi-Camp competition with Camp Nebagamon. They are joining us for a day of friendly competition in Tennis, Swimming, Canoeing, Sailing, Chess, Archery, Riflery and Cross Country. We are proud of our campers for being such gracious hosts and welcoming Nebagamon to camp in such a friendly manner.