Covindependence Day (07/18/2020)
Happy Covindependence Day! Today, we celebrated many of the holidays/big events that the boys missed out on during quarantine. At breakfast, there was a St. Patrick's Day parade, accompanied by Irish music. During lunch, the campers cheered on their counselors who faced off in a hotdog eating contest as part of the 4th of July celebration, and we had one large commencement ceremony at dinner for every community member who graduated from elementary, middle, high school, and college. This ceremony was led by Charlie Fies, and every graduate got a certificate of completion as we played Pomp and Circumstance in the background.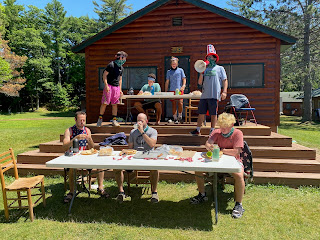 Tonight's evening program was a culmination of activities that pertain to many of the holidays we celebrated today. For example, there was an Easter egg hunt on the volleyball court, where we buried 500 eggs in the court sand and had the boys dig for them. Most eggs were filled with candy, but a lucky few had the afikoman in them! Other boys joined in racing in the Kentucky Derby. They raced through a relay of dizzying acts – spinning around a baseball bat, somersaulting through the athletic fields, and running an egg on a spoon to the finish line. The boys attended a Cinco de Mayo party. They played musical chairs and got to hit a pinata as a fun and sweet end to Covindependence Day. This day was put on by our incredible Counselors In Training (CITs), and even with a little drizzle of rain during the evening program, we know the boys had a great time because it was hard to get them off the field to clean up for bed!
"You must be prepared if you believe in something. If you believe in something, you have to go for it. As individuals, we may not live to see the end."