The Green White Kickoff
Each summer, the whole camp is divided into two teams for our ongoing Green-White competition. Last night, we kicked off this summers events with our first ever Green-White Series. For evening program, the Village Directors planned an evening where each camper would take part in one of a series of events including riflery, soccer, climbing, basketball, tennis, kickball, floor hockey and football. But the games were only part of a great evening.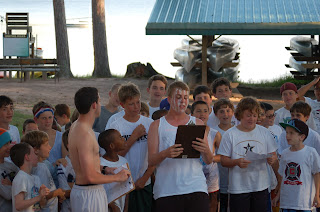 Both teams got dressed in their respective colors and before taking the field, they both prepared a cheer. With us, your teams spirit counts as much as anything. The advisors were painted up and led the camp with great enthusiasm.
Also part of the evening was a short discussion of North Star's philosophy on competition. We took some time to reiterate to the boys that while you do play to win the game, it is most important to be a good sport, a good teammate, and to remember that everyone on the field is your friend before, during, and after the game. We talked about being encouraging to both your teammates and to your competition in order to create an environment where everyone can play any game while getting better and having fun. Our staff have done a great job modeling this behavior for our campers and it really showed.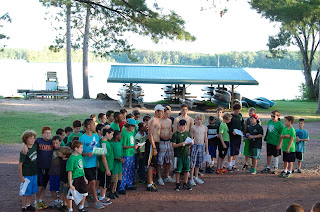 The Green-White fun continued 4th period on Monday with activities by village. The Green-White kickoff was a huge success and a great deal of fun.
Our first set of trips have now returned. Cabins S-1 and S-2 have each completed the Porcupine Mountain Hiking Trip and Cabin I-4 successfully traversed the Flambeau River. We are very proud of our explorers!