The Weekend at North Star
In the rest of the world, the weekend brings days off from school and work. At camp, our routine is a little different. While days of rest are hard to come by at camp, Friday nights do bring a change of pace.
Every Friday Night, the whole camp gathers at the Council Ring for our Friday Nigh Service. These are values based campfires that involve stories, songs and readings in a beautiful setting (see below). The first one every summer is called the Friendship Fire. We take this first opportunity to recognize the importance of camp friendships. Relationships at camp are different. In a community that strives to be a safe place for kids to truly be themselves, the friendships that form are truly special.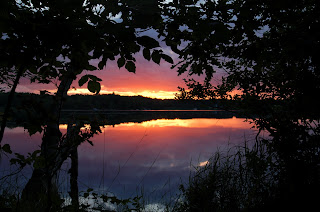 We talked about the history of North Star dating back beyond the first summer in 1945. We took a moment to acknowledge camp's founders Lou and Renee Rosenblum and then the Lebby's for ensuring that such an environment exists. And we took a moment to celebrate the kind of relationships the have kept generations of North Star guys to keep coming back. Olly Cayless told a story about what it was about those camp friends that brought him back. And he quoted our own Ben Mizel as saying "North Star is where I can be the best version of myself."
Part of the Friendship Fire is appreciating the diversity of our camp community. A representative from each city goes up and throws in a "keylog" to represent the bond of friendship between their city and North Star. Before all is said and done, there are over 100 cities represented by our campers and staff, and it is very neat to hear them all spoken.
The weekend not only gives us Friday Night Services, but also two of our favorite traditional meals. Every Friday night we have a traditional dinner of roast beef and potato latkes. Every Saturday night we have a chicken barbeque and Martha's famous cinnamon bread. The food has been fantastic this year, and those weekend dinners are always something to look forward to.
Saturday also marked the start of our second set of activities. All of the boys completed their first set of projects on Friday and began a new set of activities today. This afternoon we had a great set of Wacky One Days and we finished off the day with an all-camp game of North Star Ball- our own variation of capture the flag. Cabin I-4 will return tomorrow from their trip on the Flambeau River becoming our first cabin to complete their camping trip this year. And I-3 will embark on their trip in the morning.
It has been a great first week and this weekend has been the icing on the cake!