2018 Staff Spotlight – Courtney Lyn-Kew
First year counselor Courtney Lyn-Kew joins the NSC staff as a counselor and soccer & fitness training instructor. He grew up in south Florida, playing soccer year round. He got his undergraduate degree from Defiance College in Ohio where he played on the soccer team.
He's now getting a graduate degree from Palm Beach Atlantic University with his Masters in School Counseling. He worked a few summers ago at a camp in Maine and we're excited to have him at NSC this summer!
More about Courtney
How did you learn about North Star and why did you apply?
– I found out about North Star through my own personal research. I was fortunate enough to work at a camp in Maine two years ago and I loved it, through school I wasn't able to work during the following summers, however with having more flexibility this summer I knew that I had to find another camp to teach at!
If you could be any animal (besides a human), what would you be and why?
– If I could be any animal besides a human, I would choose to be a Koala. They're very chill animals and basically just want to eat, sleep and hangout in trees, so basically everything I wish I could do now.
What is your guilty pleasure tv show(s):
– Don't really watch tv at all but some shows that I have always enjoyed are Family Guy, and Stranger Things.
What is your dream Job:
– Growing up my dream was to be a professional soccer player, however I wasn't able to make it happen. On the positive side I fell in love with school counseling and coaching. So for me, School Counseling and coaching soccer are now my dream jobs and I don't see them changing anytime soon.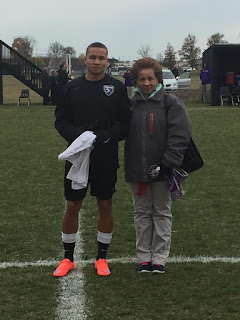 If you could have dinner with any three people, dead or alive, who would they be and why?
– If I could have dinner with three people, I would choose Barack Obama, Martin Luther King Jr, and John Wooden. All three of those men are people I look up to, so to be able to have a meal with them and just pick their brains and take in everything they have to say would be amazing. Hearing their stories and how they found the courage to overcome their struggles and the feelings they all went through would be a dream come true and such a good learning experience.
What is the best Christmas/Hanukkah/holiday present that you've ever gotten:
– The best Christmas gift I have ever gotten would probably be my JBL speaker, I use it everywhere I go. I'm very active, I use it at my soccer practices, at the beach, work (if it's not busy), in the shower, kayaking, I literally take it everywhere with me and I love it. It's indestructible.
What are/were your favorite subjects in school:
– For me I always loved P.E., I have always been athletic so it was a natural relationship. I also really liked Geography, I always found learning about different countries very interesting, I also liked simply knowing where the other countries were in relation to me.
What are your top three movies of all time:
– This was by far the hardest question to answer, however "Cool Runnings" is an absolute classic. Then I would have to say "Miracle", I think the acting is so good and everybody played their roles so well and then all the emotions that were brought out of me, easily had to be in my top 3. With my last and final pick in the top three movie draft, and I know there will be people who disagree, however I personally have to go with "Guardian" with Ashton Kutcher. Now have never been someone who cries easily, in fact I can't remember the last time I cried, but Guardian had me so close to letting a tear out that I had to put it in my top three.
What sports teams do you root for:
– Basketball- Miami Heat, Futbol- Manchester United and West Bromwich Albion, Tennis- Roger the legend Federer, Golf- Bubba Watson, Hockey- Florida panthers, College football- University of Florida, College soccer- Indiana University, College Hockey- University of Minnesota.
What noteworthy/random/menial jobs have you held?
– I would call it a job but I absolutely love my internship, so it was noteworthy to me. I learned so much and had such a good time working with the kids, I felt I had a really good impact on some students and truly helped them change their live around. A random job I've had was working as Door Guy for a Bar in downtown West Palm Beach, I'm 5'10 and about 175 lbs and definitely don't look intimidating, I originally applied to be a bar back but I guess they saw something in me that I didn't. A menial job would be working as a busboy when I was younger, however I have always been a fan of people who work hard so to me as long as you're earning honest money then I don't really see jobs as being menial.
What did you do last summer?
– Last summer I stayed here in West Palm Beach due to school, however I worked a lot, relaxed, spent a good amount of time getting a nice tan, I grew my beard out (it wasn't a good look) and basically just hung out with some friends.