August 4, 2023
Every Friday Night, we have a closing ritual at the conclusion of our Friday Night Services. Everyone puts their arms around one another and sings Forest Green, our camp song. Then we sing Taps. And before we close with the Camper Benediction, Taps echoes from a trumpet from the woods behind the Council Ring. It's a picture perfect moment as the sunlight fades over Clear Lake.
At the start of the summer, we were in search of somebody to play the trumpet and Jake, one of our Pine Manor campers, stepped up to volunteer. He didn't know Taps off the top of his head, so he worked to learn it. He has played nearly every week this summer and has done his best to hit the high notes with consistency. I have remained so appreciative of his efforts.
Last week, as we stood paused waiting for the Taps to play from the woods, there was silence. We waited for a moment, then another, to give Jake the time he needed. Still nothing. Dan walked over to see what was happening and found Jake with a busted valve and a trumpet that wouldn't play. We finished the ceremony, ended our evening, and were going about our business. As I started walking back from the Council Ring, I noticed Jake crying in the woods from the spot where he plays. He was devastated. He was so sad that this happened. He was worried that he had let everyone down. He was disappointed because he felt that he was running out of Friday Night opportunities to play Taps.
This week, Jake fixed the trumpet. He played Taps from the dock over Brewer's Bay to practice, and to revive an old tradition. We had a visit from Mike Storms this week, who was our tennis pro at camp for over 20 years and also the resident bugler. Mike and Jake played Taps together on Sunday. Two North Star trumpet players separated in age by roughly a half-century yet bonded by a common tradition at a place they hold dear.
Tonight, as we finished singing Taps, I realized this was a big moment for Jake. This is our last Friday Night Service of this summer and Jake's final as a camper. This meant a lot to him.
And from the woods came the most beautiful rendition of Taps. He hit every note. People's eyes went big. There were whispers of "incredible" and "perfect" during what is arguably the most silent moment in the camp week. Sue Lebby just let out a "Wow." I was in tears and needed to collect myself before the Camper Benediction. Jake re-entered the Council Ring to hugs and congratulations. He was absolutely beaming. What a wonderful, unforgettable moment that speaks to so many of the things we love about North Star.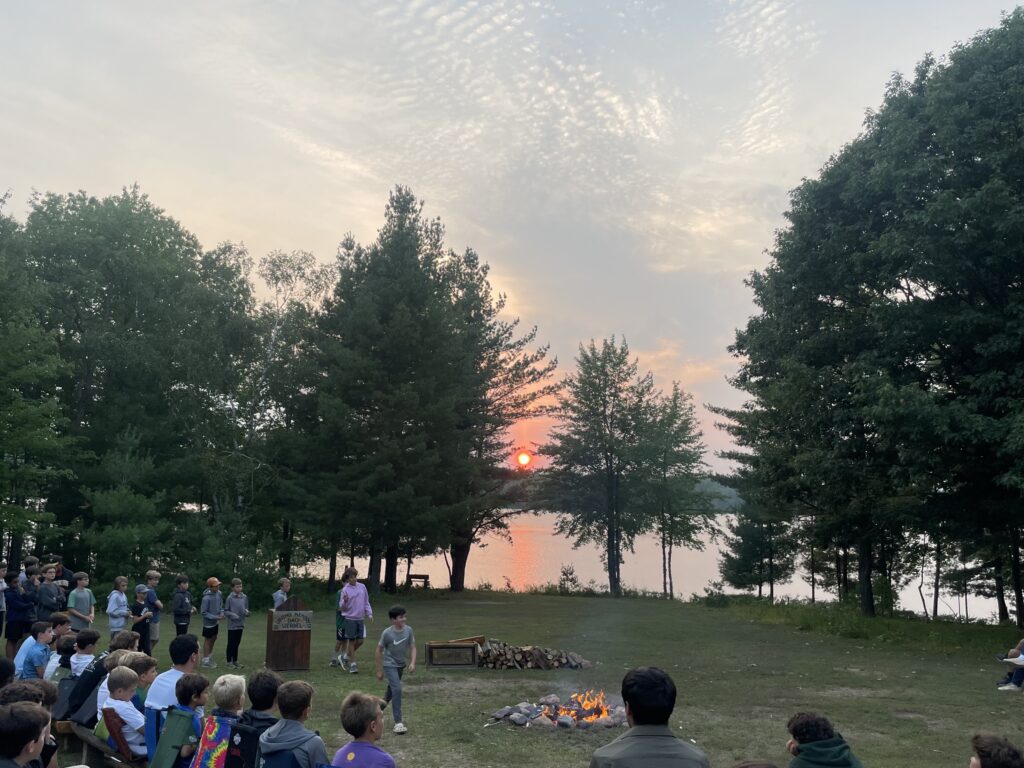 This was a perfect capstone on a beautiful service about Environmental Stewardship. Kacy gave a beautiful sermonette, we heard some wonderful music, and our keylog ceremony was filled with love and pride that couldn't be missed. We went straight from our service into our North Star Games opening ceremony, and we are set for one of our most exciting days of the summer tomorrow. Let the North Star Games begin!
Today's Grace:
"Whatever you can do, or dream you can, begin it. Boldness has genius, power, and magic in it!"

– Goethe