2018 Staff Spotlight – Kamren Johnson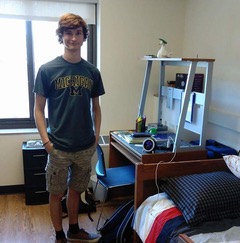 First year counselor Kamren Johnson just completed his freshman year at the University of Michigan. He is a biochemistry and plant biology major and works at one of the labs on campus. The envionment has always been one of Kam's big interests. In high school he started Envirothon, a student organization that has competitions based on environmental awareness.
Kam grew up in Hillsdale, Michigan. In high school, besides being involved in Envirothon he was on the high school tennis team. At camp he'll be instructing ecology and tennis.


More about Kamren


How did you learn about North Star and why did you apply?
– I learned about North Star through a recreational tennis
club at my college. I applied after reading about all the things I could teach.
After some interviews, I was happy to be able to teach young campers about
ecology and coach tennis.
If you could be any animal (besides a human), what would you be and why?
– If I had to be an animal I would want to be an owl,
because they represent wisdom that everyone gains through life and they are
very observant.
What is your guilty pleasure tv show(s):
– The Office, Breaking Bad, SpongeBob,
Family Guy, Rick and Morty, and Myth busters (although some of these shows are
not suitable for camp I would say).
What is your dream Job:
– My dream job would be to research with
plants and chemistry.
If you could have dinner with any three people, dead or alive, who would they be and why?:
– I would have dinner with Robin Williams, My grandpa
Johnson, and my grandma. I chose these people because I admire them and the
first two I have never got to meet.
What is the best Christmas present that you've ever gotten:
– A piano keyboard and a ton of art supplies. My favorite subjects in school
were science, art, and math. I did excellent at them and had a deep passion for
science, especially environmental and natural science fields.
What are/were your favorite subjects in school:
– Flushed Away, Batman: Dark Knight, and Inception.
What sports teams do you root for:
– My favorite sports
teams are Michigan (in anything) and any football team
besides the Patriots.
What noteworthy/random/menial jobs have you held?
– My past jobs have been a dedicated Wendy's worker and a
barista for a coffee shop in my school called the Study Cup.
What did you do last summer?
– Last summer I
attended the Summer Bridge program for U of M and had to take classes during
the summer.