Staff Spotlight: Andy Stern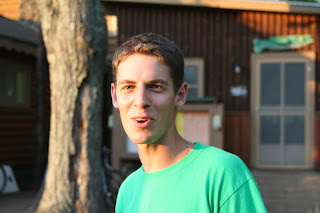 Andy Stern returns to North Star after a two summer hiatus. A native of Highland Park, IL, Andy graduated from The University of Illinois with his teaching degree. Over the past year he's been substitute teaching as he looks for a full time teaching job. He's had a few sub positions, including his current long term job in Highland Park where he's worked with some of our campers.
This will actually be Andy's 10th year at camp, so add him to our slate of "Big Ten" guys. He'll be a cabin counselor and waterski and golf instructor, however he's also a big disc golfer, so he'll be spending some time there, too. We're glad to have Andy back!
More About Andy:
Favorite tv show: All time favorite- The Simpsons, Current Favorites- Suits & The Good Wife
Best place you've ever traveled to: About a dead tie between Venice, Italy and Vienna, Austria.
Sports team(s) that you root for: Chicago White Sox and the New Jersey Devils
Favorite camp meal: Margo's Cinnamon Buns, with tacos a close second
Favorite spot at camp: The Council Ring at sunset
Favorite all camp/special program to do at camp: Capture the Flag
Earliest camp memory or notable camp memory: Sleeping through a birthday pizza party with my bunk mate, Doug, while the rest of the cabin were out on the tennis courts looking at the stars. It was actually Doug's birthday pizza party that we slept through.
If you had a super hero power, what would it be: The ability to selectively read minds, nothing like What Women Want where you have to hear everything.
Best Christmas/Hanukkah present that you've ever gotten: A 400 disc blu-ray player
Preferred chicken nugget dip: Ketchup is the answer to everything.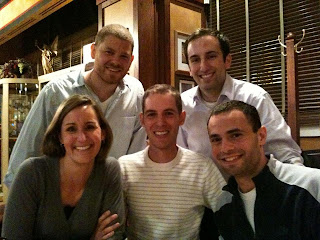 Andy with camp alums Beth Shefcyk, Spencer Schneider, Jeff Glickman and Adam Heldman