Staff Spotlight – Carlos Jaik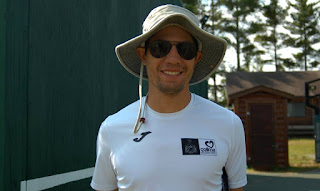 Carlos Jaik returns for his second summer at North Star. Carlos comes to North Star from Colima in
Mexico. He's a USPTA certified tennis pro and he's very involved in
tennis in Mexico. He is the secretary of the tennis association and is the coordinator of tennis coaches. He instructed
tennis for six summers at a camp in New York and has also taught in California. This past year he instructed tennis at Club Med in Ixtapa. Carlos will be instructing private tennis lessons this summer while overseeing our main tennis program.
More about Carlos
If you could be any animal, what would you be and why?
– Eagle
What is your favorite cartoon Character:
– Aang the Avatar
Where is your favorite spot at camp:
– The Tennis Courts
What is your dream Job:
– Tennis Professional
If you had a super hero power, what would it be:
– Superman
What is the best Christmas/Hanukkah present that you've ever gotten:
– A big family meeting
What is your preferred chicken nugget dip:
– BBQ
What are your top three movies of all time:
– Hercules, Gladiator and Wimbledon.
What's your go-to pie at the Norske Nook?
– Pecan and Chocolate
What is a little Known fact about yourself:
– Persistent
Share one notable camp memory:
– Every single day on the Tennis Courts with Mike Storms was a notable camp memory