Staff Spotlight – Harley Rutherford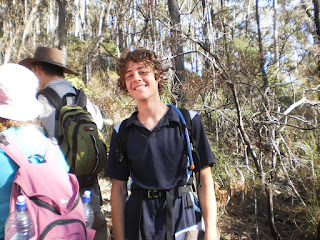 I was born in Canberra, Australia, and have lived in and around there all my life, sometimes in town, sometimes on a farm outside of town. I took part in hiking expeditions through my school on a yearly basis from about year 7 onwards, in addition to going hiking with my family occasionally as well. In year 11 this love of hiking led to me joining the Duke of Edinburgh scheme, in which groups of people between the ages of 14 and 18 would all go hiking together once in every few months. After finishing year 12, I became a 'draft pony', which is the DofE term for 'young adult leader', and now I take part in hikes sometimes as often as once a month.
I am currently taking a gap year in my studies to work and travel the world. After taking part in North Star I am traveling over to Europe for a month before flying back to Australia. This is the first time I have ever left my own country, and I am doing it on my own. At camp I'll be instructing archery, sailing and pathfinders.
More About Harley
Your Dream Job: Private Helicopter Pilot at an island resort.
Best place you ever traveled to: North Queensland: Daintree Rainforest (So far. This will probably change by the end of this year)
Your favourite Cartoon Character
: Aang, from 'Avatar the Last Airbender'
If you could have lunch with any two people, dead or alive, who would they be?: Russel Brandt and Noel Fielding
How did I learn about North Star and why did I apply:
A mixture of good luck, word of mouth and the internet. I found out
about the program whilst looking for alternatives to teaching English in
schools, and which would still allow me to travel. I applied because I
could work with kids and around people who may have similar interests as
me, and get to teach activities which I love doing regardless.
Noteworthy, random or menial jobs that you've held:
I have been a waiter for 10 months, which has taught me to remain calm
in just about any situation imaginable, and that no matter how bad
things are, they can always get worse when your kitchen runs out of gas.

What did you do last summer:
Attended the National Folk Festival; went kayaking in Kangaroo Valley
for 3 days; completed the Light to Light hike, along approximately 30
kilometers of coastline, in two days; and learnt to fire twirl.
What, if any previous camp experience have you had: None through North Star, but lots and lots of hiking, bushwalking and camping experience.
If I had a superpower: Flying