Staff Spotlight – Jeff McCormack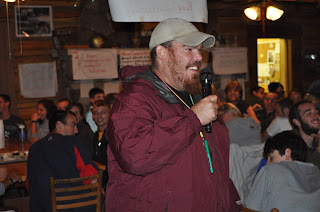 My name is Jeff McCormack and I will be the CIT Director and NSC Disc Golf "Course Manager" at camp this summer (I need that title added to my contract). This will be my 18th summer on staff at North Star. Prior to being CIT Director I was a counselor, Village Director, fishing and disc golf instructor. North Star will always hold a special place in my heart as its where I met my wife, Kim. We have two kids, 8 year old son Lake (who's looking forward to being a camper this summer!) and 7 month old girl Summer (who can't wait to pal up with Laney).
During the off season I teach 18-21 year old young adults with developmental disabilities adult independent living skills (preparing them and their families for life after school). I get my fair share of disc golf in as a friend and I run a winter charity disc golf series (13 weeks long) called Winter Warriors. We play every week, regardless of the weather, at a different course in the Denver area and all money raised goes to The Food Bank of the Rockies (this season we raised almost $9,000). North Star is my home and family away from home. We're so lucky to be able to spend our summers in such a beautiful place with such amazing people. Looking forward to seeing the team of 2013 in June at North Star!
Favorite Tombstone pizza type: Gotta be old school Tombstone…no alternative will suffice! Thank you Andy for bringing them back! For me, it's the 4 Meat.
Favorite project at camp (that you don't necessarily instruct): Disc golf! No place I would rather be playing disc golf than on the North Star Camp Disc Golf Course (aka the NSCDGC)!
Your three favorite movies of all time: Dumb and Dumber (NEVER stops being funny), Rocky 4 (I cried when Apollo died), The Princess Bride (I wanted to be Fred Savage)
Preferred wanegan offering: For some reason, Skittles just taste better at camp.
Best evening program at camp: The Friday Night Service is by far my favorite time of every week.
Favorite cartoon character: Spongebob Squarepants (Phineas and Ferb are a close second).
Favorite camp (card) game: Hearts. Used to be THE camp card game, pre-Euchre.
If you could have lunch with any two people, dead or alive, who would they be?: Kim McCormack (just the two of us) and my Grandpa Pete Nielsen (used to own Pine Crest resort across the lake, sadly passed in 1992).
What is your dream job: CIT Director at North Star Camp for Boys. Any way we can make this a year round position?
A little known fact about yourself: Back in 2000 I was a counselor for then 15 year old camper Andy Shlensky (in Cabin Manor).