Staff Spotlight: Kim McCormack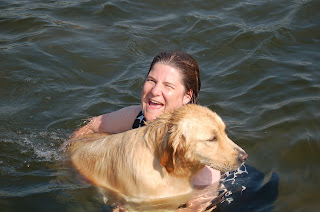 Add doggy lifeguard to Kim's responsibilities
Kim McCormack was actually Kim Hulse when she first came to North Star 14 years ago. As a middle school science teacher, she worked with NSC long timers Steve (Hitch) and Corrie Hitchens, who told her about the opportunity to work at camp as office manager. That seemed intriguing enough, and little did she know that she'd find her eventual husband at North Star.
We often joke that Kim is a Jill of all trades, and there have actually been years where that title was on her contract. The fact is that for camp to be successful, there are always people who go well beyond their title and do whatever is necessary, and this certainly is the case with Kim. She works with our counselors to make sure that our cabin cruiser days are successful. She assists in Denny's Den, helping make sure that the daily program happens. She also has lots of other daily tasks, ranging from helping sort mail to making sure that counselors get nightly snacks.
Kim did find her husband at North Star. Jeff is currently our CIT director. Their son Lake also makes North Star home for the summer. During the off season, Kim is a middle school science teacher in Evergreen, CO.
More about Kim:

Favorite tv show: The Amazing Race

Best place you've ever traveled to: London as a child & Yellowstone as an adult

Sports team(s) that you root for: I guess any Denver/Colorado team, but it really doesn't matter to me

Favorite camp meal: Tin foil surprise seasoned with minced and chopped bland. I will continue to lobby to have it each cruiser day.

Favorite spot at camp: Swim Point

Favorite all camp/special program to do at camp: UN day is my favorite
each year. I also liked the blueberry and cherry festival

Earliest camp memory or notable camp memory: meeting my future husband (he doesn't remember it though)
If you had a super hero power, what would it be the ability:
to teleport this way I could still shower at home while at camp
Best Christmas/Hanukkah present that you've ever gotten: As a kid, it
is a tie between a bike and a beautiful doll I got one year. As an
adult, I got some sapphire earrings one year. I am always appreciative
for gift cards

Preferred chicken nugget dip: Honey Mustard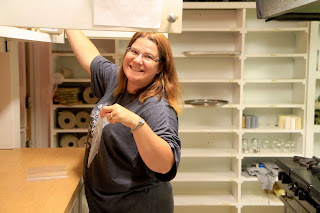 Kim's favorite cooking spice is minced "Bland"