Staff Spotlight – Leslie Thomas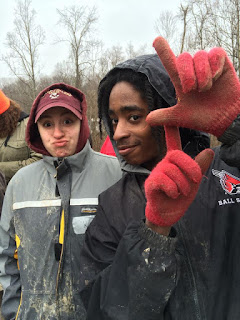 Leslie Thomas will be spending his first summer at North Star. Leslie grew up in Oak Park, IL and just finished his sophomore year at Ball State University in Muncie, Indiana. There he's studying organizational communication.
On campus Leslie is a pretty busy guy. He was involved in BSU's chapter of College Mentors for Kids. He was able to serve as a mentor for individuals between 1-5th grades, creating programming and working with kids from the local community. He's a big sports fan and at camp he'll instruct athletics as well as arts and crafts.
More about Leslie
How did you learn about North Star and why did you apply?
– I found out about North Star Camp on Campchannel.com and I applied for this position because I wanted to try something that I've never done before. I never been to camp and I want to know what it feels like to have this experience.
What is your dream job?
– My dream job is to start my own sports startup so fans can easily connect with their favorite athletes. Also, I would love to work in the field of sports and entertainment marketing. I'm a sports junkie so anything that has a connection with sports would make me happy!
If you could have lunch with any two people, dead or alive, who would they be?
Kobe Bryant and Dwayne "The Rock" Johnson. Two interesting guys that both knows how to entertain their audience!
If you could travel anywhere in the world, where would you go and what would you do there?
– I would go to Italy because I love pizza and pasta and I studied Italian for three years in high school. There is so much art that can be explored in Italy!
If you were stranded on a deserted island, what are three things you'd bring?
– A blade, a whistle (so I can continuously call for help), and a water purifier.
What sports team(s) that you root for?
– All Chicago sports. Enough said!
What noteworthy/random/menial jobs have you held?
– I was a bagger once. It's not as easy as it looks.
What did you do last summer?
I spent my summer working the front desk at Ball State University. I was responsible for accommodating visitors who were coming for conferences or orientation.
What, if any previous camp/outdoor experiences have you had?
– None whatsoever. I'm looking forward to the experience!