Staff Spotlight: Olly Cayless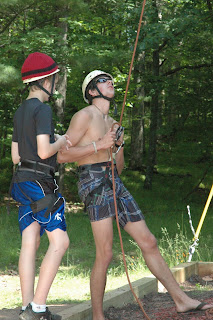 Olly is a man of many talents!
Our International staff members bring so much to camp. We work hand in hand with a few different agencies who recruit, interview and place staff at camps across the country. NSC alum Brad Holland worked for many years with a company in his native Australia and about a year ago he move on from that. After leaving, however, he did some consulting work with the placement agencies and in this role, he sent us one last profile for a prospective counselor named Oliver Cayless. Brad hit the nail on the head on that one!
Olly returns to North Star for summer #2. Traveling all the way from the UK, Olly hails from Brecon in Wales. Back home, Olly is a student where he studies sports and exercise science. At camp, we put his talents to good use as he spends much of his time as a climbing wall and windsurfing instructor. On top of that, he is a certified canoeing and kayaking instructor. We're lucky to have Olly back!
More about Olly

Favorite tv show: Top Gear (British version) or Scrubs

Best place you've ever traveled to: New Zealand
Sports team(s) that you root for:
WELSH RUGBY TEAM!!!!! (he seemed pretty emphatic about that one)
Favorite camp meal: Beef with the fried potato ball things (I am guessing he means latkes) taco salad, anything by the squirty chicken kievs.

Favorite spot at camp: The Council Ring

Favorite all camp/special program to do at camp: Glen's Game or Espionage
Earliest camp memory:
Driver Greg stopping at Dairy Queen on the way back from the airport just after stopping at Jimmy Johns and him being surprised that we weren't hungry.
Notable camp memory:
My first Friday night service with full camp
If you had a super hero power, what would it be: To be able to fly

Best Christmas present that you've ever gotten: Socks
Preferred chicken nugget dip: BBQ Sauce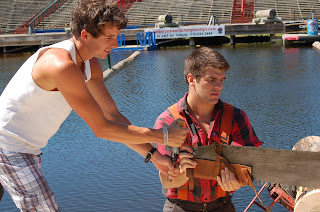 Olly Cayless, lumberjack in training