Staff Spotlight: Ryan Nemethy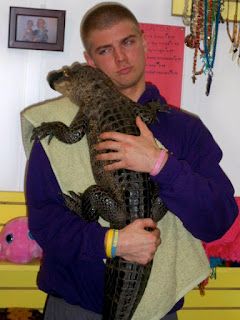 We're not really sure whats going on here
Andy and I joke about making our yearly trip to Champaign, IL as being a good excuse to go to Papa Del's pizza for dinner. Whenever we head down there, we take current NSC staff (as well as Andy's sister, Jami) out for their famous deep dish. Pizza aside, we've got a great tradition of staff recruiting at U of I. We've been heading there each spring for the last four or five years and each year we manage to walk away with at least one solid new counselor. Last year Jeremy Palgen came aboard and the year before him, John Sheehan did. Both will be back in 2012 and will be joined by U of I sophomore Ryan Nemethy.
Ryan is a native of Lisle, IL and is a phsychology major. After graduating he's planning on earning his Ph.D in counseling psychology. Ryan is currently the President of the Phi Gamma Delta fraternity at the U of I. He's also one of many of our staff members that has spent time in Africa. He traveled there last summer. Ryan will be instructing fitness training, climbing as well as a few of our athletic activities.
More About Ryan
Favorite TV show: How I met your Mother

Best place you've ever traveled to: Tanzania (East coast of Africa)

Sports team(s) that you root for: Chicago White Sox, Chicago Bulls, Chicago Bears, Chicago Blawkhawks

How did you learn about North Star and why did you apply: I received an e-mail from Andy and went in and met him and Dan and how can you turn those two down? I mean really.

What did you do last summer?: I traveled to Africa last summer which was absolutely insane. Beautiful place and people.

What noteworthy/menial/random job(s) have you previously held?: I worked at Target.. got a pretty sweet discount there. I've teach an
introduction class at the University of Illinois which is a ton of fun
and been great getting to meet new people as they enter into their
college careers.

What, if any previous camp experiences have you had?: I have no previous camp experience except for
baseball, football camp which weren't over night camps and they were
much shorter.

If you had a super hero power, what would it be: Huge fan of captain america. I want to be him.

Best Christmas/Hanukkah present that you've ever gotten: I got a fruit juicer for Christmas. It's awesome.

Preferred chicken nugget dip: Ketchup but I'm slowly becoming a bbq sauce man.