Staff Spotlight – Thomas Fies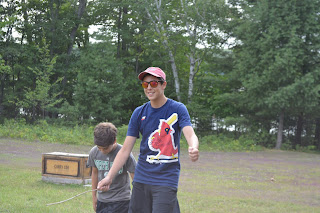 Thomas Fies returns to North Star for his fifth summer, but his first summer on the NSC Staff. He just finished his sophomore year at Evanston Township
High School. At ETHS he's on the swim team and plays waterpolo. He's also on the ultimate frisbee club.
Thomas will only be spending first session at camp this summer because he's going to do some research trips. He's headed to Bonaire and Curacao. As part of the trip, he's going to be catching lizards, taking data on their measurements and comparing them all over the island to see how they've evolved differently.
More about Thomas
What is your favorite spot at camp?
– My favorite
spot at camp is the council ring, although the main fire pit in the
villa is a pretty close second.
If you could have lunch with any two people, dead or alive, who would they be?
– If I could have lunch with any two
people, it would have to be Zlatan Ibrahimovic and Kanye West.
What sports team(s) that you root for?
– I root
for the St. Louis Cardinals, the Alabama Crimson Tide, and the Bears.
What is your favorite program at camp?
– My
favorite program at camp is disc golf because of how different
it is, but I also love water skiing and playing speedball.
If you could travel anywhere in the world, where would you go and what would you do there?
– If I could
travel anywhere in the world, I would go back to Quetico Park in Canada
and go fishing and camping.
What's your go-to pie at the Norske Nook?
– I don't have a go-to pie at Norske Nook yet
because I've only been there twice, but both times it has been amazing.
Best holiday gift that you've ever gotten?
– The best holiday gift I've ever gotten would be when I was 9 or 10 and
addicted to Legos, and I got the Star Wars Death Star which was about
3,000 pieces and kept me busy for days.
How has camp impacted you?
– Finally, camp has impacted me in
more ways than I thought possible. I've grown so much since my first
day at camp, both physically and mentally, and most of the maturation I
can trace back to being caused by North Star. It has given me more of a
sense of responsibility and more self-esteem thanks to the incredibly
welcoming environment, and I will always be grateful for the second home
given to me by camp.