Staff Spotlight – Adam Pechmann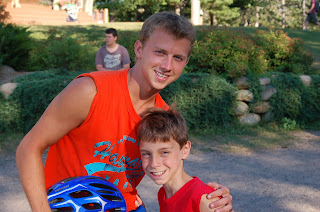 Hello to all of the summer 2013 staff both old and new at Camp North Star! I am counting down the days until I complete what may very well be the last semester of school of my life and cannot wait to get back to camp! I am currently a graduate student at Eastern Illinois University pursuing my Specialist Degree in School Psychology. I have been working within the school districts with parents, teachers, and students providing counseling services as well as assessments and diagnostics for special education, gifted programs, etc…
This will be my second summer at Camp North Star and I cannot wait to get back to see everyone from last summer and hopefully have an even more incredible experience than last year! After this summer, I have been given the awesome opportunity to work as an intern with St. Louis Special School Districts next year and look forward to working more independently in the schools. At camp I'll be instructing softball, climbing and some biking.
More About Adam
Favorite Tombstone pizza type: Combination (Sausage and Pepperoni)
Favorite project at camp (that you don't necessarily instruct): Softball, softball, and…baseball??
Your three favorite movies of all time: Good Will Hunting, Shawshank Redemption, Space Jam
Preferred wanegan offering: Snickers

Best evening program at camp: Without a doubt, Friday night service.
Favorite cartoon character: Stewie Griffin
Favorite camp (card) game: Euchre (But I'm still a rookie)
If you could have lunch with any two people, dead or alive, who would they be?: Babe Ruth and Stan Musial
What is your dream job: Professional baseball player (it could still happen)
A little known fact about yourself: I am one of seven children in my family (the youngest is 8 and the oldest 33!)