Staff Spotlight – Alex Lara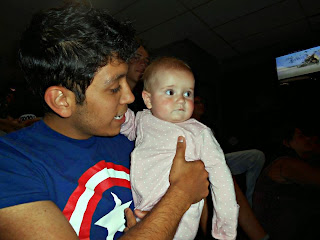 Alex and Laney during the summer of 2013
Alex Lara returns to North Star for his third summer. He is a native of Varacruz in Mexico. There he is studying at Universidad Veracruzana. He is in his last semester and he will earn his bachelors degree in languages translation, interpretation and teaching. He is very involved in the university prom as well.
Alex recently got a part time job working at a day care. We are lucky to have Alex back working in our kitchen. One of our great traditions is Martha's Cinammon Bread, which is a staple of our Saturday night chicken BBQ and Alex keeps everyone happy making the bread perfectly.
More about Alex
If you were stranded on a deserted island, what are three things you'd bring?
– I have seen the show of Bear Grills and since I wont eat a raw fish, I choose: water, food and a cellphone
What is your favorite spot at camp?
– The council Ring, that place its so quiet and its good to be thankful for the things that you have
If you could have lunch with any two people, dead or alive, who would they be?
– Mss. Obama because she is such a strong and independent person and I think she has interesting stories to tell.
What sports team that you root for?
– I like basketball but I don't have a favorite team.
What is your favorite special program at camp?
– United Nations day because that day all camp participate in the activities with the kids, and the dinner is awesome.
If you could travel anywhere in the world, where would you go and what would you do there?
– -Definitely China, the culture its incredible, and its full of landmarks and awesome places to see.
What's your go-to pie at the Norske Nook?
– Snickers, O M G that pie is the best, one reason to go to Hayward if you ask.
Best holiday gift that you've ever gotten?
– A trip to X-caret a place where you can do scuba diving, that day I say the biggest fish I ever seen, a barracuda.
How has camp impacted you?
– I think camp is one place where you can be yourself without judgment, and everyone encourage each others to try new things and where you can make true friends.
Everyone there is friendly, kind and polite, and be around of these type of people make me a better person.