Staff Spotlight – Ari Weil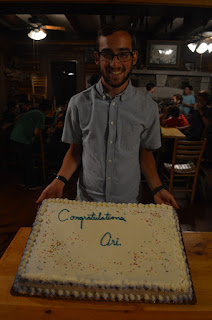 My name is Ari Weil and I'm originally from Denver, Colorado. Currently, I am a second-year international relations major at Pomona College. At school, I compete in Model United Nations and manage the campus bike repair shop. At camp, you can find me teaching biking, riflery, and ultimate frisbee. This will be my 11th summer at North Star, and I'm so excited to get back to camp!
More about Ari
If you could be any animal, what would you be and why?
– Probably a mantis shrimp. Not kosher, but I'd have 16 types of color-receptive cones rather than a human's 3.
What is your favorite cartoon Character:
– Dilbert
Where is your favorite spot at camp:
– The end of the ridge, at the channel to Clear Lake
What is your dream Job:
– Teaching strategic studies
If you had a super hero power, what would it be:
– Whatever Frozone's power is (control of water and ice?)
What is the best Christmas/Hanukkah present that you've ever gotten:
– Lego Boeing 787
What is your preferred chicken nugget dip:
– Barbecue Sauce
What are your top three movies of all time:
– Star Wars: The Empire Strikes Back, The Dark Knight, and Lincoln
What's your go-to pie at the Norske Nook?
– Butterfinger or Turtle
What is a little Known fact about yourself:
– I once got a chance to fly and land (and almost crashed) a full-motion 747 simulator at the United Airlines Flight Training Center in Denver.
Share one notable camp memory:
– Being on the Canadian my Pine-Manor year remains one of my best memories of camp