Staff Spotlight: Chad Harju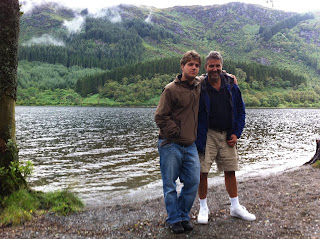 Chad Harju was born and bred in Ann Arbor, MI, and when he decided where he'd spend his college years, he felt that there was no place like home, heading for the University of Michigan. He's a big fan of UMich athletics and he had a marketing internship in the athletic department there. Unless we add any OSU Buckeyes to the staff, he'll have to settle for sports arguments with our Michigan State staff.
Ann Arbor is also home to many disc golf courses, one of Chad's passions. He began playing during his sophomore year of college and fell in love with it. I'm sure that Chad will become a regular member of the morning disc golf crew. We welcome Chad for his first summer at North Star as a cabin counselor and disc golf instructor.
More About Chad:
Favorite TV show: Game of Thrones
Best place you've ever traveled to: Stockholm, Sweden last summer. I was even able to play Disc Golf!
Sports team(s) that you root for: All University of Michigan Athletics, especially football and
basketball, I bleed Maize and Blue! My favorite professional sports
teams are: Detroit Tigers, Detroit Lions, Detroit Red Wings, and Detroit
Pistons.
How did you learn about North Star and why did you apply: Two friends and myself started the University of Michigan Disc Golf Club
last August. At the beginning of this semester, we received an email
from Dan looking for potential counselors that were interested in disc
golf. I applied, and met Dan and Andy at the Michigan Union and the
rest is history.
What did you do last summer: Last summer I was lucky enough to travel to Europe. The places that I
visited were Sweden, London, and Scotland. It was an experience that I
will never forget.
What noteworthy/menial/random job(s) have you previously held: When I was in high school, Jumper the movie came to film. I was lucky
enough to get a job as a movie extra. Next time you watch the movie,
look for the bridge scene at the beginning of the movie. If you look
really closely at the bridge you can see me, it's very blurry so you'll
just have to trust me. I have also spent the last three years working
for the University of Michigan Athletic Department as a marketing
intern, giving me the ability to see my favorite teams compete from the
sidelines. Both of these jobs were two of the most fantastic positions I
have been lucky enough to attain. I look forward to adding Camp North
Star to the group!
What, if any previous camp experiences have you had: This will be my first camp experience, and I can't wait!
If you had a super hero power, what would it be: I love to travel, so I'd definitely love to be able to teleport anywhere in the world instantly. Yea, that would be cool.
Best Christmas present that you've ever gotten: N64 when I was in 3rd grade, I can't remember a time when I was more excited from opening a present.
Preferred chicken nugget dip: Sriracha mixed with ranch, no question.