Staff Spotlight: Noah Larson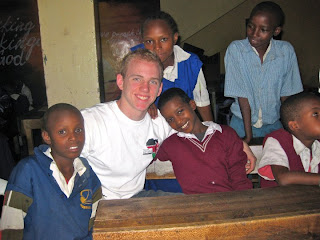 Noah at a school in Kenya
Noah Larson comes to North Star for summer #1 from Lakeville, MN, just south of the Twin Cities. He's currently a student at South Dakota School of Mines and Technology, where he's studying electrical engineering. He's currently taking 19 credit hours of class, so we're sure that he'll enjoy the pace of camp quite a bit. He headed to school in the Black Hills of SD, in part, because of his love of the outdoors and the terrain there is perfect for mountain biking.
Noah has quite a bit of camp experience himself. As a child, he went to family camps in MN. He then worked at a camp for intercity youth. He's also coached basketball camps and last summer worked as a personal care assistant for a disabled ten year old at a camp. Noah brings quite a bit of skills with him to camp and can do many outdoor activities. He'll focus on climbing, riflery and model rocketry.
More About Noah:
Favorite TV show: Top Gear
Best place you've ever traveled to: Nairobi, Kenya.
Sports team(s) that you root for: Denver Broncos, Twins, Vikings, and the Gophers
How did you learn about North Star and why did you apply: I learned about North Star through another camp, I wanted to work at a camp this summer to do something different and make more of a difference than I could at other jobs.
What did you do last summer: Woke up too early and stayed up too late
What noteworthy/menial/random job(s) have you previously held: I used to milk cows as a ten year old
What, if any previous camp experiences have you had: I worked at a camp last summer as a personal care assistant for a disabled ten year old
If you had a super hero power, what would it be: Be able to make portals with my hands.
Best Christmas present that you've ever gotten: Honda CR-85 Dirt Bike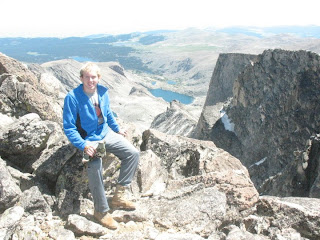 On top of Cloud Peak in Wyoming