Staff Spotlight – Ethan Levy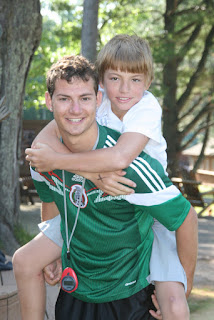 My name is Ethan Levy, and I am from Mequon, Wisconsin. I am just finishing up my second year at the University of Wisconsin-Madison. I study economics and philosophy at school, as well as write for one of our school's newspapers, The Daily Cardinal. I am extremely excited to be back for my 12th summer at camp, where I will teach a variety of land sports (primarily floor hockey), along with instructing waterskiing and climbing. As always, the countdown to camp has already began!
More about Ethan
If you could be any animal, what would you be and why:
– I love to run, so I would be a cheetah.
What is your favorite cartoon Character:
– Batman
Where is your favorite spot at camp:
– The Council Ring, watching the sun set over the lake
What is your dream Job:
– To be a GM for an NBA franchise
If you had a super hero power, what would it be:
– Teleportation, so I could travel the world
What is the best Christmas/Hanukkah present that you've ever gotten:
– Tickets to a Blackhawks game
What is your preferred chicken nugget dip:
– BBQ Sauce
What are your top three movies of all time:
– The Princess Bride, The Dark Knight Rises and Perks of Being a Wallflower
What's your go-to pie at the Norske Nook:
– Raspberry Cream Cheese
What is a little Known fact about yourself:
– Despite being only 5'5", I still frequently dream of playing in the NBA
Share one notable camp memory:
– Sitting around the campfire with several other counselors, just hanging out, singing and getting to know each other–simple moments like those, amongst many others, are what brings me back every year!