Staff Spotlight: Jason Mann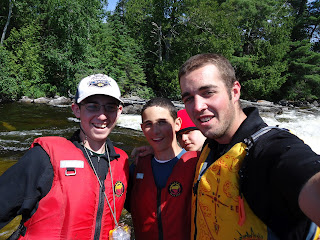 Jason Mann returns to North Star for summer #3. Originally from New Berlin, WI, he's currently studying at the University of Wisconsin – Stevens Point in, you guessed it, Stevens Point, WI. There he's a soils and waste management major.
Jason actually first came to us as a referral from Camp Timberlane and we're glad that they didn't have any remaining trip leader spots that summer. This will be his third summer as one of our trip leaders. Occasionally, when he's not on trips, you can find him out long boarding, one of his big hobbies. Our campers and staff really love Jason's sense of humor and having him as their trip leader!
More About Jason:
Favorite tv show: dual survival
Best place you've ever traveled to: glacier national park Montana
Sports team that you root for: brewers
Favorite camp meal: portabella mushroom burger with tomato and cheese or the awesome salad bar…yes I'm a vegetarian whooop!
Favorite spot at camp: tripper shack
Earliest camp memory or notable camp memory: my first night in camp eating dinner in the lodge sitting with Leb and Ben Mizel and talking about life and past experiences. I had know clue who Mr. Mizel was at the time and did not know what an impact he has had at North Star. I'm now glad to say were friends and have many fond memories at camp with Ben.
If you had a super hero power, what would it be: master of every outdoors skill…oh wait already have that, I wish I could fly because I tried once and it did not end well.
Best Christmas/Hanukkah present that you've ever gotten: Osprey Crescent 90 Liter backpacking pack, best pack I have ever owned, thanks mom and dad.
Preferred chicken nugget dip: BBQ sauce hands down

A great shot that Jason took on the 2011 Canadian