Staff Spotlight: Josh Devorkin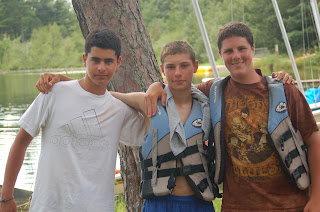 Josh Devorkin (L) with Aaron Stone and Sean Alexander
Josh Devorkin spends his off season in tropical Mequon, WI.
He is a Sophomore at Homestead High School, where he has been on the varsity
swim team. He recently swam conference and qualified for sectionals. He has a
great chance to swim at state. He is on a traveling lacrosse team and played a
tournament in Maryland. Josh is also involved in BBYO.
Josh will be one of our Counselors in Training and at camp he's looking
forward to instructing a variety of athletic projects as well as canoeing and
mountain biking.
More about Josh:
Favorite tv show: The amazing race
Best place you've ever traveled to: Aruba

Sports team that you root for: PACKERS GO PACK GO!!!

Favorite camp meal: Pizza, grilled cheese with tomato soup, pasta with dirt and worms
Favorite spot at camp: Swim point and the Council ring
Favorite all camp/special program to do at camp: pow wow day, and Friday night services
Earliest camp memory: the first Friday night services having the amazing sunset in the background and looking around and seeing how many friends I had made the first week I had been at North Star.
If you had a super hero power, what would it be: To transport places so that I can experience the world

Best Hanukkah present that you've ever gotten: A trip to the Bahamas

Preferred chicken nugget dip: BBQ sauce