Staff Spotlight – Kathy Luy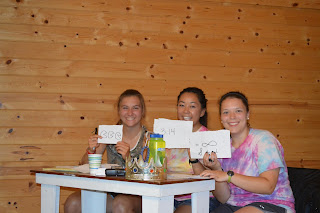 Kathy Luy hails from Brookfield Wisconsin but has spent the last four years studying secondary education at the University of Wisconsin-Madison. She just graduated from the UW this May and is currently seeking a job as a social studies teacher. In addition to studying at the UW, she also played on the club soccer team this past fall and also ran her first marathon.
At camp, Kathy is one of the friendly voices that you'll get when when you call camp. She's one of two Kathys that works in the office. She also spends quite a bit of time on the waterfront as part of the water ski staff.
More about Kathy
If you were stranded on a deserted island, what are three things you'd bring?
– I would bring a soccer ball (to keep me entertained), a hammock (to hang between some palm trees and enjoy the stars) and an endless smores kit.
What is your favorite spot at camp?
– The end of the pier at swim point because it undoubtedly has the best view at camp.
If you could have lunch with any two people, dead or alive, who would they be?
– Aaron Rodgers, but instead of lunch we would play catch. I would also want to have lunch with George Washington.
What sports team(s) that you root for?
– Wisconsin's pride and joy, the Packers; Chelsea Football Club, Bayern Munich and the U.S. Men's and Women's National Team. Also the Brewers, even though that is currently painful.
What is your favorite special program at camp?
– Glen's Game
If you could travel anywhere in the world, where would you go and what would you do there?
– I would go to Austria and go snowboarding in the mountains and catch a soccer game.
What's your go-to pie at the Norske Nook?
– Hands down, Raspberry Peach Melba
Best holiday gift that you've ever gotten?
– A giant Winnie the Pooh bear when I was four.
How has camp impacted you?
– Camp has been a home away from home for me. I've met some of my best friends these past few summers and I just can't seem to get enough of the North Woods.