Staff Spotlight – Zach "Blumy" Blumenfeld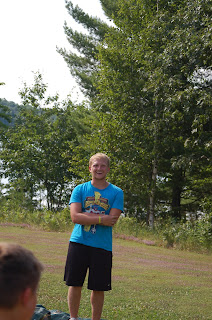 Zach Blumenfeld is a guy of many talents… as if being a Presidential Scholar and a contestant on Jeopardy wasn't enough. He hosts live music
on his radio show The VU Backstage at Vanderbilt University, where he's currently a sophomore. He joined Delta Tau Delta fraternity and served as Philanthropy Chair
this spring. He's also been playing club water polo, and was just appointed the
first-ever CEO of RVU Records, Vandy's student-run record label.For spring break, Blumy went to to Glen Canyon as an Alternative Spring Break leader with Vanderbilt. He and a senior led a group of 10 other students on a community service project.
Blumy returns for summer number ten. In honor of this accomplishment, we are going to try to find a new camp song for him. At camp, he instructs fitness training and swimming.
Favorite Tombstone pizza type: Meat Lovers
Favorite project at camp (that you don't necessarily instruct): Waterskiing
Your three favorite movies of all time: Pulp Fiction, Pulp Fiction, Pulp Fiction
Preferred wanegan offering: If they offered (Norske) Nook pies every time I'd be in heaven.
Best evening program at camp: Friday Night Service
Favorite cartoon character: Finn the Human! (from Adventure Time)
Favorite camp (card) game: Euchre
If you could have lunch with any two people, dead or alive, who would they be? Teddy Roosevelt (my favorite President) and Benjamin Franklin (maybe the most well-rounded person of all time)
What is your dream job: ROCK STAR
A little known fact about yourself: I drive a 2001 blue VW Beetle that always smells like crayons…no one knows why!