Camp Prep Tips #2 – Shop Like a Pro
Now it's time to turn our attention to filling the duffle bags! It's possible that you've been shopping for camp gear since the holidays, taking advantage of sales after going over the camp equipment list like a hawk. On the other hand, you may be avoiding camp shopping like the plague, worried that you'll buy the wrong thing anyway. Shopping for camp gear doesn't take a Masters of Arts in Shopping but there are some things you should know. We're hoping that what follows will provide lots of tips to help your shopping process easy and also help you not have to re-purchase in future years.
There's no need to overspend!
We're going to be honest with you. Things get dirty at camp. Your child is going to outgrow stuff before next summer. Your child is going to lose stuff. The third one we can work to avoid but the rule when packing is that if you absolutely, positively have to have the item back in one piece at the end of the summer, don't pack it! This may apply to an expensive tennis racket or your son's favorite t-shirt that he was given by his late great grandfather.
Most of the stuff that you pack for this summer will not fit by next summer. As high quality as a Mountain Hardware fleece may be and popular as a North Face hoodie is, there are other alternatives that are less expensive. We don't have recommended stores or clothing brands, but REI, Campmor.com and Sports Authority all have gear that will be great for camp. Brands like REI's in house line, Colombia and other well knowns are great quality and perfect for camp. Often you can head to your local independent camping store and find those high end brands at a solid discount. Stores are trying to clear out leftover winter gear or last year's line. Shop around and take advantage of sales!
Most of what your son is going to wear at North Star is basic clothing. T shirts and shorts are our dress code. For camping trips there is other necessary gear, all of which we talk about on
our main equipment list
as well as our
Canadian equipment list (for current 9th graders)
. A few times each summer kids will wear something a bit nicer (i.e. a polo type shirt and nicer shorts). The majority of what you pack is going to be from your son's everyday clothes.
Where possible, use what you have instead of buying new! There are a few items that we don't recommend skimping on, which we'll address below.
Now for Some Specifics
So here is where we really hope to help. Over the years, we've been able to see which specific products withstand the summer better than others, which are more effective, and which really pass the camp test. Below we give you the North Star seal of approval on what specifically to buy and what to avoid.
– Cook Kits
This one is easy… a lexan or other hard plastic plate, cup, and utensil set, all stored in a small mesh bag.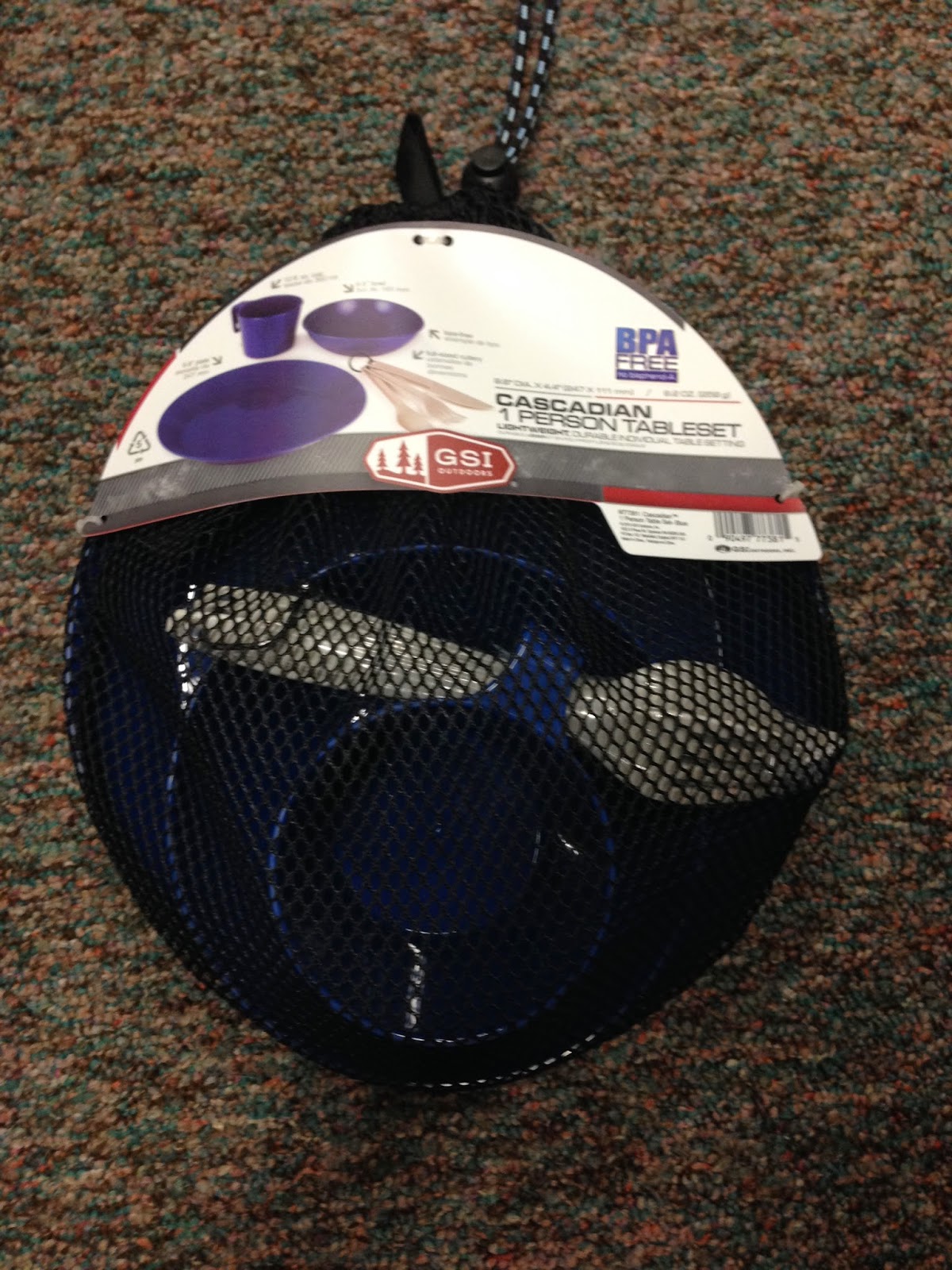 The above set was found at a chain sporting goods store for about $12. Here is
a similar set for sale at Campmor.com
. This is a set that should last a few summers…so long as the utensils end up back in the bag.
What to avoid? Those silver metal cook kit sets that seemed to have 4 plates, 2 bowls, a small pot, and six other random pieces all held together by a nut and screw which inevitably gets lost the first time you open the set.

– Canteens/Water Bottles
We're minimalists when it comes to this one… go for the standard waterbottle. We like the
Nalgene type 32oz water bottle
. It's durable, easy to clean and doesn't have parts that are easy to lose. Add
a splash-guard
and you're ready to go. There are plenty of other brands, so don't feel like you have to buy a Nalgene (however they are virtually indestructible) A
Gatorade style water bottle
is great for camp as well. If your son is going on the Canadian (just finished 9th grade & is attending first session), we recommend buying two waterbottles.
What to avoid? Lots of people like this style of bottle with the spill proof bite valve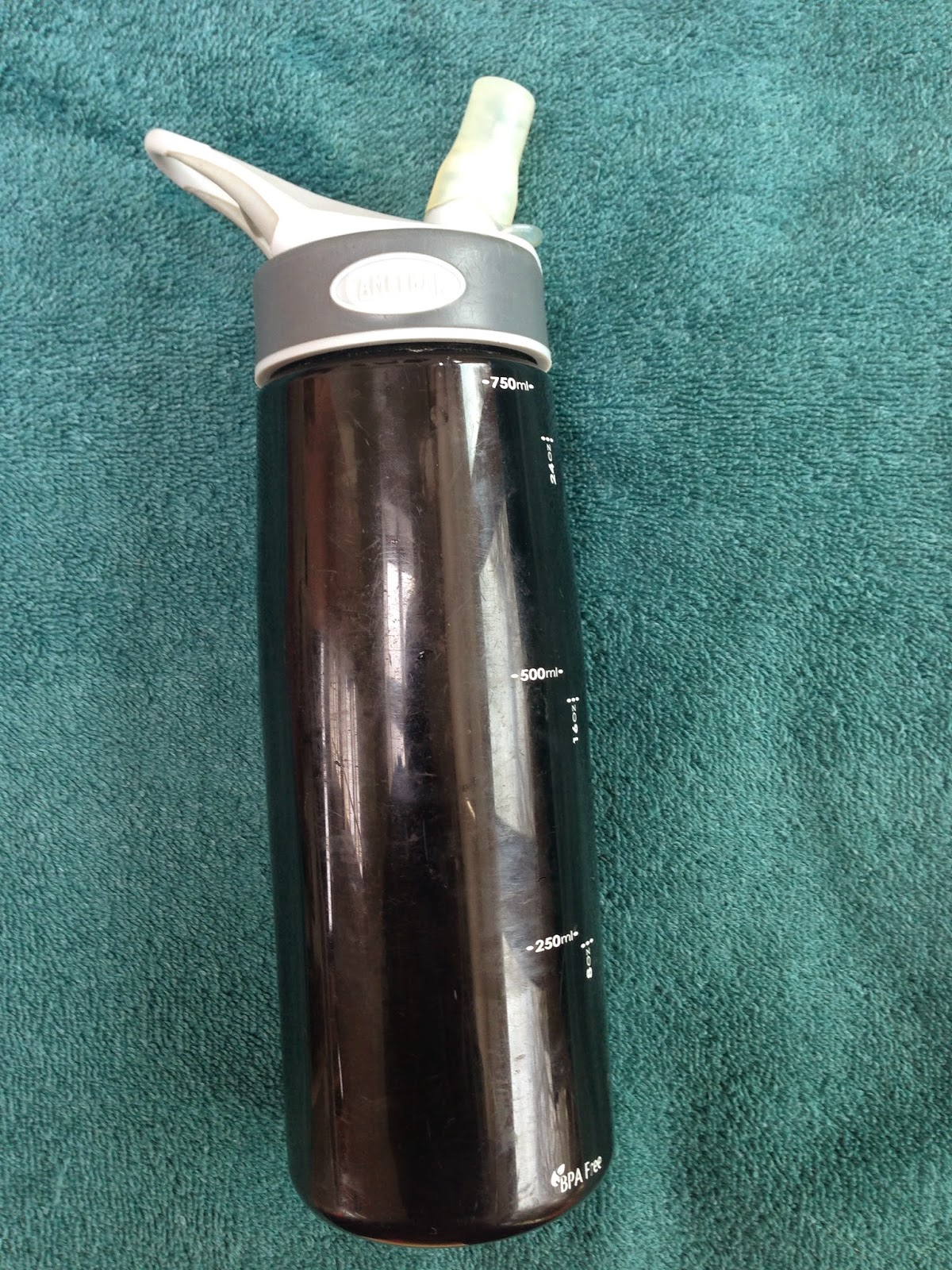 So whats the concern?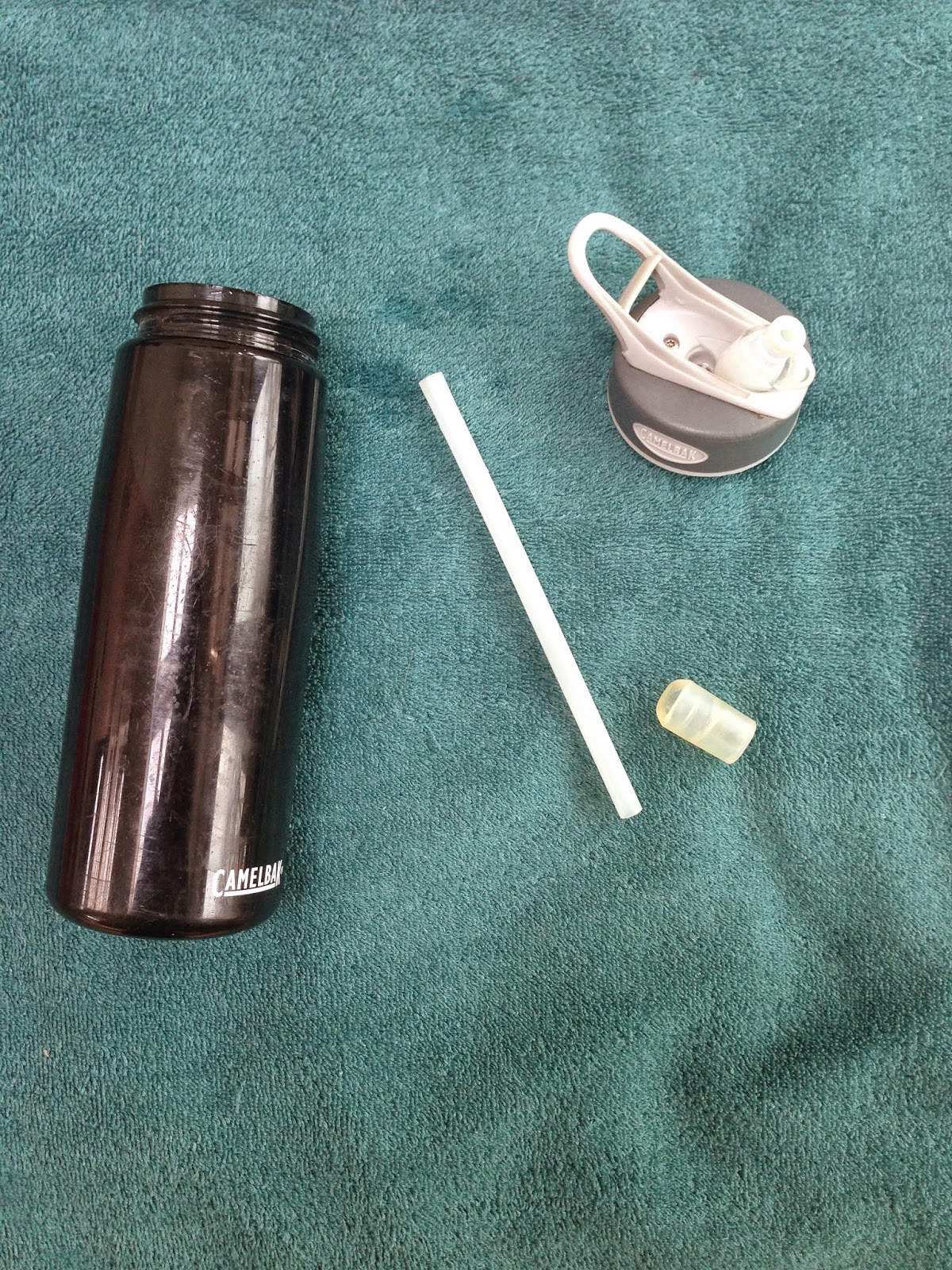 Lots of little pieces that come apart to clean the bottle. By the end of the summer, we find several of these style bottles without straws or the bite pieces, rendering the water bottle useless. The bottles also aren't as easy to clean as water bottles without all the pieces. Clean-up is also a concern for the
Camelbak hydration backbacks
. These are great for biking but not necessary for camp.

Laundry Bags
This one isn't too complex, but we see two common errors. Not enough laundry bags and laundry bags that are too small. Campers need two laundry bags. When laundry is sent out, they need a second bag to start their next laundry load. If your son goes through lots of clothes, you may want to pack an extra laundry bag. As for laundry bag size, go for one that is at least 28″X38″.
Laundry bags look alike, and when laundry is returned to camp, there are over 170 bags of clean laundry. For kids to find their clean laundry it's important that you can label the bag in some way. We recommend, at a minimum, a solid bag (nylon or other material) where you can clearly and easily write your son's name. Mesh bags are hard to label and rip easily.
Rain Coats/Ponchos
There are lots of options here and lots of opportunities to overspend. Our main recommendation is to avoid the clunky ponchos. Especially on camping trips, ponchos are cumbersome and not at all wind resistant. What we really like is a rain coat shell with a zip out fleece liner. These are multipurpose. The fleece liner will cover your son's need for a light coat. The shell with hood serves as a rain coat. Zipped together it's great for cold days. Unfortunately by the time next winter rolls around, this is unlikely to fit, but if you've got a shell/liner from this past winter, you're set.
Duffle Bags
Long gone are the days of packing your trunk or foot locker. They're expensive and not at all durable. They're bulky and have no give whereas duffles store easily when not in use and can take a beating. If you're buying new baggage, buy duffles. There are lots of duffle options out there and some of them are really expensive.
Some guidelines. First, you'll likely need two duffles. As for size, something in the vicinity of 30″ X 15″ or bigger is a good starting point. Some kids bring lots of stuff, others not as much. One problem we do see is busted zippers on duffles. When people try to overpack a duffle and struggle to zip it shut, zippers will break. Make sure you get duffles with good zippers. The duffle should also pass your eye/feel test. If it looks or feels like the fabric will easily rip, go for something else.
Hiking Boots
If you ask ten people their recomendations for hiking boots, you'll get ten different answers. At North Star only kids who just completed 8th and 9th grades truly need hiking boots. The 8th graders go on a hiking trip to the Porcupine Mountains and the 9th graders go on the 9-day paddling and portaging trip to Quetico Provinical Park in Ontario. Again, it's unlikely that the boots you buy for the 8th grader will fit by their 9th grade summer, so don't break the bank!
These trips often see some inclement weather and hiking on slick surfaces. Because of this, having a good gripping sole is very important. Lots of boots have Vibram soles, which are great. When choosing boots, we also tend to err on the side of good ankle support. Some people do need boots that provide more ankle support, so going with boots that rise above the ankle would be important if this is a concern.
Waterproof boots are a bit of a misconception. To keep boots waterproof you have to spray them regularly with waterproof treatment. Waterproof boots don't breathe as well. If you step in a high puddle, feet get wet. Breathable boots will drain easier and dry quicker. To keep feet dry and in good shape, good socks are important (see below).
Bonus Tip: Break in your boots! More likely than not, your son is going to have a fairly new pair of boots for his trip this summer. If the first time he wears them is on day one of his trip than he's likely to get some blisters and have some discomfort. Boots need to be broken in, so we recommend that campers wear their hiking boots on and off for a few weeks before they come to camp.
Younger campers will need some type of shoes for rainy weather. This can be a hiking shoe or boot or a spare pair of shoes that can get wet. For younger campers, there is no need to spend a lot of money on hiking boots.
Socks
This is one area where we'd spend a few extra dollars. Here we're speaking about our campers who just completed 8th and 9th grade. On the hiking trip and Canadian good socks are a must. Boots are going to get wet and feet take a lot of wear during the trip. Having hood socks is very important.
Synthetic or wool socks are what you want. They dry quickly and really protect feet! On cold days, even when these socks are wet they keep feet warm. Campers in these ages will need socks beyond cotton socks! Cotton clothing takes a long time to dry and is uncomfortable when wet. Good socks are something that will last and are great for winter use.
We recommend buying 2-3 pair for these trips. You don't need to go to high end camping stores to buy these socks but you also won't want to go to Target or Walmart, either. At a minimum, head to a sporting goods store for these.
Sleeping Bags
This is another item that you don't want to skimp on. There are lots of things to consider with sleeping bags, and our #1 recommendation is to stay away from sleeping bags with cotton/fleece lining. Starter sleeping bags used for sleep overs aren't appropriate for camp. When they get wet they take days to dry out. If you have a sleeping bag with a nylon lining, you're set.
If you are going to buy a new sleeping bag, this is actually one item that is worth the investment. A good sleeping bag will last your son's camp career and beyond. If you're buying your 10-year old camper a new bag, plan ahead and buy a bag that they can grow into! Our recommendations when buying a new bag:
– A temperature rating of 32 degrees Fahrenheit or lower. Our Canadian trip can have some cooler nights and if your son ever does camping outside of camp, this is a pretty standard temp rating
– Easily compressible. Sleeping bags should compress into a 12″ X 18″ stuff sack. This makes trip packing much easier. You can also purchase a compression sack which really help.
– Go for a mummy-style bag versus one that unzips totally flat
As for the sleeping bag fill, the two main options are synthetic and down. Some people really love down. Down sleeping bags are warmer and they weigh less. Synthetic, on the other, hand dries much quicker and compresses easier. For our purposes, we would recommend a synthetic filled bag but there are also great down-filled sleeping bags.
Bonus Tip: Unstuff your sleeping bag! Stuff sacks are meant to be used while on trip and when transporting a sleeping bag. While at home, however, a sleeping bag should be taken out of the stuff sack. If a sleeping bag remains in its stuff sack constantly it loses its loft and ability to keep the user warm. Store a sleeping bag over a hanger in a closet when it's not in use!
Now about losing things… we'll follow up with another Preparing for Camp entry about the wonders of labeling. For now, good luck shopping and if you have any specific questions, email us at office@northstarcamp.com and we'll be sure to help you shop like a pro!