Staff Spotlight – Bryan Butler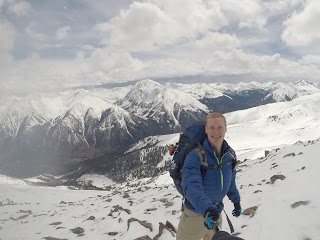 Bryan Butler grew up in Lincoln, Nebraska as the 3rd oldest
in a family of 7 children. He is currently a student at Nebraska Wesleyan
University where he is an Athletic Training major. He also runs track for the Prairiewolves (Seems like a good mascot for College Days 2016).
He's a big outdoors guy. He hunts, fishes, kayaks, canoes
and backpacks in his free time. His back country trips include Mt. Zirkel
Wilderness near Steamboat Springs, Colorado, backpacking around Mt. Elbert and
Mt. Massive near Leadville, Colorado, canoeing and kayaing
the Niobrara River, the Buffalo River as well
as the Boundary Waters Canoe Area Wilderness in Minnesota Bryan received his
Eagle Scout rank in 2013. We're excited to have Bryan join us as a Wilderness
Trip Leader this summer.
More about Bryan
How did you learn about North Star and why did you apply?
– I learned about North Star through a campus internship email. I applied because working at North Star looked like a great way to work outside and influence the upcoming generation.
If you could be any animal (besides a human), what would you be and why?
– If I could be any animal I would be a bald eagle because they are very majestic birds and can reach speeds up to 100 miles per hour. They pull their food right out of the water and build nests that are around six feet in diameter and three feet tall. They have great eye sight and you could see the word from a whole different perspective that a human.
What is your favorite cartoon Character:
– My favorite cartoon character is Yogi Bear. He is somewhat clumsy but always tries his best at what he is doing with his sidekick Boo-Boo.
What is your dream Job:
– My dream job would be a wilderness EMT. I think it would be really cool to be the guy swinging out of the helicopter rescuing people from canyons and be the first person to provide medical assistance in hard to reach remote areas.
If you had a super hero power, what would it be:
– If I could choose one super hero power it would be super human endurance. I then could do any activity for a virtually unlimited amount of time.
What noteworthy/random/menial jobs have you held?
– I worked for a detasseling company in Nebraska in the summer for six years. I also worked construction and for Finishline selling shoes.
What are your top three movies of all time:
– Everest
– Interstellar
– Benchwarmers
What did you do last summer?
– Last summer I summited Mt. Elbert in Colorado (14,440ft) during a backpacking trip with a close friend. I then spent the rest of my summer working construction to help pay for school.
What is a little Known fact about yourself:
– I run track for Nebraska Wesleyan University in Lincoln, Nebraska. I run the 400m and the 800m as well as relays. My 400m personal record is 50.16 seconds and my 800m personal record is 1:55.62.
What, if any previous camp/outdoor experiences have you had?
– I have attended many different boy scout summer camps over the years and earned my Eagle Scout in 2013. I have also spent a substantial amount of time canoeing/kayaking in Arkansas, Nebraska, and Minnesota as well as backpacking in Nebraska, Wyoming, and Colorado.