Staff Spotlight: Michael Berger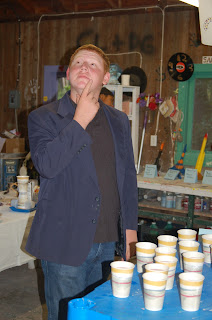 Another of our great Junior Counselors is Michael Berger, A native of Chicago, IL, he returns for summer number nine. Michael is a junior at the
Latin School. He is on his school's volleyball team and also
will is taking classes at Second City in Chicago. As noted by the pictures that we choose, he's a pretty animated guy, so he'll certainly put those classes to use at camp.
At camp, Michael can be found on the riflery program and in the arts and crafts. He's also known to spend some time on the softball field as well as on theater games.
More About Michael
Favorite tv show: 30 rock or psych

Best place you've ever traveled to: China or Italy

Sports team(s) that you root for: Bulls, bears, cubs, and blackhawks

Favorite camp meal: Fish fry

Favorite spot at camp: The council ring (especially on a Friday night)

Favorite all camp/special program to do at camp: All camp capture the flag

earliest camp memory or notable camp memory: My J1 trip down the mighty Namekagon river

If you had a super hero power, what would it be: Teleportation

Best Christmas/Hanukkah present that you've ever gotten: Tickets to late night with Jimmy Fallon.

Preferred chicken nugget dip: Honey mustard