Staff Spotlight – Noah Broutman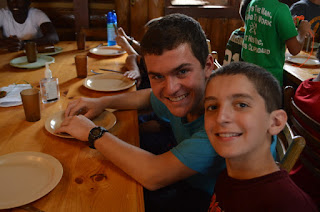 From Highland Park, Illinois, Noah Winkelman Broutman returns to North Star for summer number 8. Noah just graduated from Deerfield High School where he was on the school's Varsity Bowling Team, environmental club, diversity club and more. This fall, Noah will be attending The Ohio State University where he will be majoring in Human Resource Management.
At camp, you can find Noah doing some riflery, tennis, and other activities as well as shooting hoops and dancing around the camp. Noah can't wait for the summer of 2016 to begin!
More about Noah
If you could be any animal (besides a human), what would you be and why?
– Otter, no explanation necessary.
What is your favorite cartoon Character:
– Ben 10
Where is your favorite spot at camp:
– Council Ring
What is your dream Job:
– An Otter
If you had a super hero power, what would it be:
– I'm practically already a superhero
What is the best Christmas/Hanukkah present that you've ever gotten:
– Guinea Pig
What is your preferred chicken nugget dip:
– none
What are your top three movies of all time:
– Caddy Shack, Breakfast Club, & Peter Pan
What's your go-to pie at the Norske Nook?
– Chocolate Mousse
What is a little known fact about yourself:
– I am a movie star. I rocked the role of Boy Playing #2 in Buzz E. Bee at the Rainy Day Zoo.
Share one notable camp memory:
– Going on a ten day camping trip in Canada my Pine Manor year with my best friends is an experience I will cherish for a lifetime.